The Early World
With CDs from Cantos a Kiterra (Sardinia) and Kompania (Greece).
Cantos a Kiterra.
Cantos a Kiterra is the name of the first album in the series "Senesia", dedicated to the musical inheritance of Sardinia. The name says it all, this part deals with 'the songs which are accompanied by guitar'. In a beautiful illustrated CD booklet, the history and forms of this music tradition are explained (in English and Italian), and also the specific style of singing which belongs with it.
CD: 'Songs from Sardinia' van Cantos a Kiterra. Label: Amita Records (1999), code: ARNR 0399.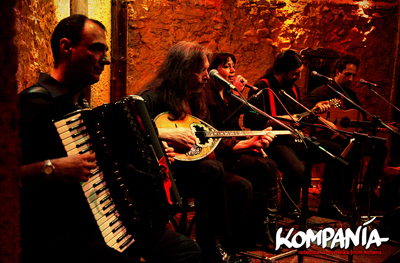 Kompania.
The groups comes from Athens and plays "Rebétika" & "Smyrnéïka", also called the Greek blues. Their debut CD Kompania Live! (2012) made it to the top 5 of the year charter 2013 of the WMCE (World Music Charts Europe). Their new CD 'Round Trip' is once again in a high place (7) on the WMCE top 10 list. This time it is recorded in a studio, with contributions from musicians "Loek Schrievers" on slide guitar (also producer) and "Ulas Aksunger" on percussion.
CD: 'Round Trip' van Kompania. Label: Chara Productions (2013), code: Chara 2013-2. Distribution: Xango Music.
Producer:

Cobie Ivens