The Musyck Room
A new edition of The Musyck Room, our live radio show with early music. Our guests: trio Fantasticus, countertenor Kaspar Kröner, lute player Arjen Verhage and Utrecht ensemble Camerata Trajectina.
This new edition was recorded at Saturday February 27, 2016 with live audience in the Deken Chapel in the Utrecht St. Peters Church, the Netherlands.
Our guests:
A. Fantasticus (see image to the right): Rie Kimura, baroque violin. Robert Smith, cello and viola da gamba. Guillermo Brachetta, harpsichord. They play 17th-century music in the 'stylus fantasticus' by F.M. Veracini and P.H. Erlebach.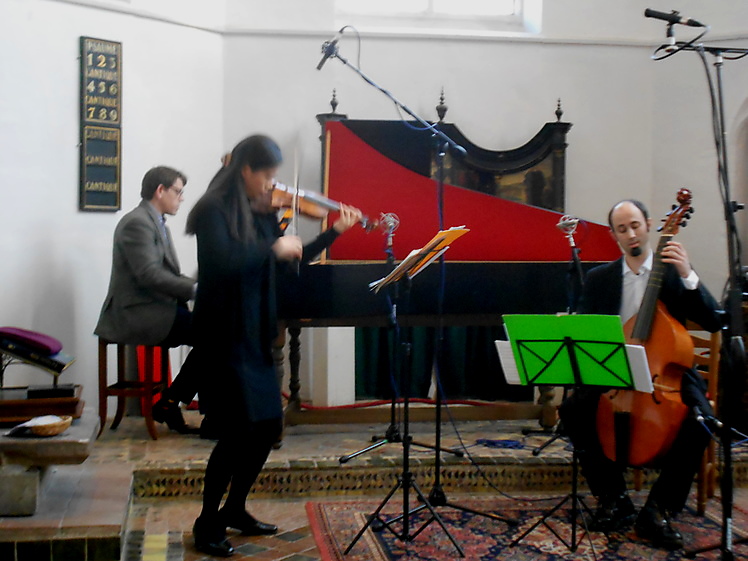 Francesco Maria Veracini (1690-1768)
1. From Opus 2, No. 12: Adagio – Ciaccona
2. From Opus 2, No. 5: Adagio assai – Capriccio
Philipp Heinrich Erlebach (1657-1714)
3. Sonata II in e minor
 
B. Countertenor Kaspar Kröner and lute player Arjen Verhage bring English lute songs by Dowland, Danyel and Campion.
John Dowland (1563-1626)
4. Say, Love, if ever thou didst find
5. I saw my Lady weep
John Danyel (1564-1626)
6. Like as the Lute delights
John Dowland
7. Flow my Tears
Thomas Campion (1567-1620)
8. I care not for these Ladies
C. The members of ensemble
 Camerata Trajectina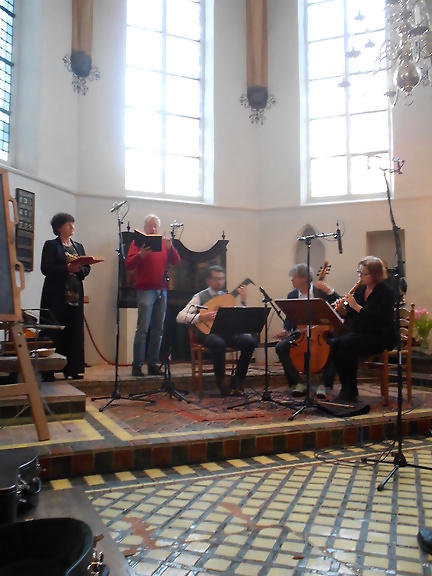 (see image on the right) pay hommage to their recently passed artistic leader, musicologist and lute player Louis Peter Grijp.
Songs by Pieter Corneliszoon Hooft (1581-1647) for four girlfriends:
2. Galathea
3. Klaere, wat heeft er uw hartje verlept
4. Rosemond
5. Hoogher Doris niet, mijn gloedtje
Dutch songs on melodies by John Dowland:
6. Van 't Laetste oordeel (D.R. Camphuysen, 1624)
Vocals: Gaillarde Essex
Jocular songs from Jan Janszoon Starter's Friesche Lusthof (1621, 1627):
7. Meysje met jou blancke billen
From de zingende klucht van Lijsje Flepkous
8. Doen Phoebus vertoogh
(Stemme: O doe not, doe not kil me yet for I am not, &c)
9. Is Bommelalire soo groote geneughd
(Stemme: Was Bommelalire so pritty a play, &c)
Camerata Trajectina: Hieke Meppelink – soprano. Nico van der Meel – tenor. Erik Beijer – viola da gamba. Saskia Coolen – recorder. Arjen Verhage – lute
Host: Evert Jan Nagtegaal
Images: Irene Stolp
Producer: