The Previous Century
Perestroika #40. Today, our series featuring works that were made during rebuilding (perestroika) and collapse ('destroyka') of communism in East Europe, is in place of origin Russia for the third time. The Chernobyl disaster and the concert for viola and orchestra by Alfred Schnittke, "a disaster especially because it is the viola".
Composer Michail Tarivérdjev (picture below) was born in Tbilisi in 1931. He studied music in Moscow with Aram Khachaturian and gained fame mostly from his music in popular films like 'Seventeen Moments in Spring' and 'Irony of Fate'. Shortly after the nuclear disaster in Chernobyl, he visited the scene of the catastrophe in September 1986, which left a deep impression. He writes: "My life had, like the lives of so many others, reached a point of no return: Chernobyl. This was not just a tragedy for Russia, but a disaster and a test for humankind as a whole. For the first time, perhaps, humankind felt like it was 'one'."
Tariverdjev composed his Chernobyl symphony in two parts for the organ. The first part is called 'Zone', with which Tariverdjev meant "the stunning feeling of life in a city that is suddenly hardened; the many moments in a day were suddenly cut up into shift work in a 'radiation zone', where no human face could be seen, only masks. It brings to mind Tarkovsky's film 'Stalker'. The second part is called 'Quo Vadis?', where are you going? That is my tribute to those who gave their lives to spare us the disastrous effects and the inconceivable consequences, in any country or any place on this planet." Christophe Guida from Marseille plays the organs of Roquevaire.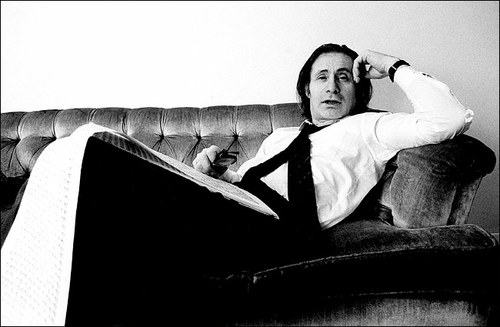 Ten days after finishing his concert for viola and orchestra in 1985, Alfred Schnittke (picture) had a stroke that, according to Aleksandr Ivasjkin, was almost deadly. Schnittke says: "As something foreboding of what was about to happen, the music took the shape of a restless hunt through live and a slow, sad view of life on the verge of death." In the same year, he and Ivasjkin began the series of conversations that would result in his book 'Über das Leben und die Musik'. In these conversations, Schnittke says: "In the finale of the viola concert, it really culminates in a disaster. But it is mainly a disaster because it is the viola of all instruments." Cellist-conductor Mstislav Rostropovich was so impressed by this new work, that he begged Schnittke to make new works for cello and orchestra, and an opera. Because of his age of 60 years, he claimed priority. Schnittke would live for 13 more years, so too to grant Rostropovich's wishes.
1. Michail Tariverdjev (Tbilisi 15.8.1931 – Sotsji 24.6.1996).
Chernobyl-symphony opus 94 (1988): 1) De Zone, 2) Quo Vadis?
Christophe Guida (1982) plays Roquevaire's great organs.
www.christopheguida.fr.
2. Alfred Gárrievich Schnittke (1934-1998).
Concerto for viola (1985): 1) Largo, 2) Allegro molto, 3) Largo.
Kim Kashkashian, viola, Orchester der Beethovenhalle Bonn led by Dennis Russell Davies.
ECM New Series ECM 1471.
Producer: