The Previous Century
Perestroika #41. Today, our series with works centered around renovation (perestroika) and collapse ('destroyka') of communism in Eastern Europe, is in Russia for the fourth time.
We begin with the Small requiem by Aleksandr Vóestin (picture on the left). You can hear soprano Jelena Vasiljeva and the Quatour sine Nomine. 
In 1997, Jelena Firsova composed her 'Flow of time' in memory of Edison Denisov to a text of a final short poem by Gavriil Derzjávin (1743-1816): Time's river in its stream/ Bears all human deeds away,/ And in an abyss of oblivion/ Drowns all nations, kingdoms and kings./ And should aught survive/ In sounds of lyre or of trumpet/ That too will be swallowed by the maw of Eternity/ And will not escape the common Fate. (6 July 1816). 
Michail Bronner (right side of the picture) was born in 1952 in Moscow, where he was Tichon Chrennikov's composing pupil. He gained international fame mainly because of performances in Germany in 1994, including his monumental 'Jewish requiem' to texts by Chaim Bjalik, Maimonides, Anne Frank, the Song of Songs and psalms. Violinist Levon Ambartsóemjan (left side of the picture), a pupil in Moscow of Leonid Kogan and others, performs with the ARCO Kamerorkest Bronners violin concert from the year 2000, called 'Heavenly Gate'.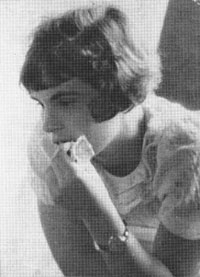 Music critic Alex Ross commented on Galina Oestvolskaja (picture): "She must be approached with caution. Woe betide the one who, based on religious titles such as 'Dona Nobis Pacem', 'Amen' and 'Dies Irae', expects a mystic minimalist like Henryk Gorecki or Arvo Pärt. For this is religiosity with sharp edges, a penance for esoteric sin. The shapes only become visible in pitch-darkness once the eyes get used to the lack of light." Russian composer Viktor Soeslin even called her music a 'black hole' that consumes all light, including the light from before Creation. "Music that pierces the deepest depths of consciousness with a thin steel needle." In her Fifth Symphony from 1989, Oestvolskaja used the text from 'Our Father'.
1. Aleksandr Koezmitsj Vóestin (born in Moscow 24.04.1943).
Small requiem (1994): 1) Requiem aeternam, 2) Dies Irae, 3) Recordare, 4) Confutatis.
Jelena Vasiljeva, soprano and the Quator Sine Nomine: Patrick Genet and François Gottraux, violin. Hans Egidi, viola and Marc Jaermann, cello.
Claves 50-2303.
2. Jelena Firsova (21.3.1950).
'The flow of time' for choir and chamber orchestra opus 81, In Memoriam Edison Denisov (1997).
Choir and Chamber Orchestra Genève led by Lev Markiz.
Meladina Record MRCD 0016.
3. Michail Bronner (born in Moskou 25.02.1952).
Concerto for violin and orchestra, 'Heavenly Gate' (2000): 1) Cantabile.
Levon Ambartsoemjan (Moscow, 1955), violin and the RACO Chamber orchestra.
Phoenix PHCD 153.
4. Galina Ivanovna Oestvolskaja (Petrograd 17.6.1919 – Petersburg 22.12.2006).
Symphony no. 5 (1989/1990).
Sint Petersburg Soloists led by Oleg Malov: Pjotr Tosenko, oboe. Vasili Kan, trumpet. Valentin Abbakoemov, tuba. Aleksandr Sjoestin, violin. Valeri Javnertsjik, percussion. Oleg Popov, recitative.
Megadisc MDC 7854.
Producer: