The Wandering Microphone
Folk music from Italy.
Music from various regions in Italy: Sardinia, Sicily, Puglia and the province Luciana.
Sardinia:
The launeddas is the instrument typical of this island and it is mainly played on Sardinia.
Three dances on three launeddas from the CD Ballos Sardos (1997). Etnica TA 015
From the same CD, four many-voiced songs sung by four men, followed by three instrumental pieces.
Sicily:
From the island of Sicily, two spiritual songs, followed by two dance songs.
Cd. Cumpagnu ti Mannu Lu Signuri. (1994). Ethica
TA 012.
Puglia:
Serenades dating back to the 18th and 19th century.
Cd. Ciolini e Serenate a Canosa. ((1993). Ethica TA 07.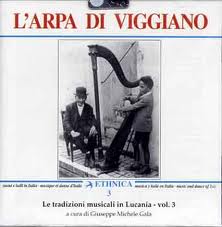 Province Luciana:
Some works on various plucked instruments: the harp, the guitarra battente and the mandolin.
Cd. L'Arpa di Viggiano. (1991). Ethica Ta 03.
Producer: