The Wandering Microphone
Music from south Slavic countries: Bosnia, Serbia and Croatia, part 2 (of 2).
Folk music from the various countries of Yugoslavia. The music comes from a couple of EP records without any comments.
1. The Ensemble Lado, named after a Croatian goddess of fertility, which is accompanied by the tamburasi of RTV Zagreb.
EP: Jugoton EPY S-4246.
2. A couple of songs of the Istrian peninsula, as well as in Italian as in Croatian idiom of that region.
EP: Jugoton EPY-4095.
3. A music style from several villages south of Zagreb, probably of earlier origin.
EP: Jugoton EPY-44644.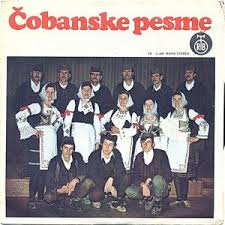 4. Music from Serbia from the area from the upper course of the Gruzja river.
EP: RTB EP 11200.


5. From the Bosnian and Slavonia border region and four songs by the Katinic brothers, with accompaniment on the saz and violin.
EP: Jugoton EPY-4419.
6. Music by the Ensemble Mate Balota of the Istrian peninsula.
EP: Jugoton 44699.
Producer: