The Wandering Microphone
Two live concerts: Terah Taali and Mohammed Reza Mortazawi, which were recorded at the Houtfestival in Haarlem on 17 June 2012.
The Terah Taali group is from Rajastan. This group consists of three dancing women and three singing men who play the Tandoora and the Dholak.
While dancing, the women also make music by using metal bells that are attached to their body. That way, the dances sort of decide what sort of music is played.
Parcja/Picja Disha, trad.
Beera Reema Jeema, trad.
Age Re Age, trad.
Mohammad Reza Mortazavi was born in Isfahan in Iran in 1978. He is seen by many as the best tombak player in the world.
He developed thirty new ingenious percussion and finger techniques.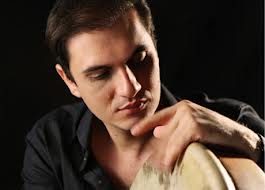 Gerade Aus, part 1, Mohammad Reza Mortazavi
Gerade Aus, part 2, Mohammad Reza Mortazavi
Gerade Aus, part 3, Mohammad Reza Mortazavi
Live recording of Mohammad Reza Mortazavi, 17 June 2012, Houtfestival Haarlem.
Producer: