The Last Century
Music by 20th-century composers.
Music by Jean Sibelius
Earlier this year, Chandos Records released a highly praised CD of the Bergen Philharmonic Orchestra conducted by the British Edward Gardner with music by Jean Sibelius. One of today's great singers, the Norwegian soprano Lise Davidsen, is featured in two of the works on the CD.
Playlist
Jean Sibelius: Luonnotar, Op. 70 (1913). Lise Davidsen, soprano; Bergen Philharmonic Orchestra conducted by Edward Gardner
Jean Sibelius: Suite Pelléas och Mélisande, Op. 46 (1904-1905) Lise Davidsen, soprano; Bergen Philharmonic Orchestra conducted by Edward Gardner
Jean Sibelius: Tapiola, Op. 112 (1926). Bergen Philharmonic Orchestra conducted by Edward Gardner
Jean Sibelius: 'Till trånaden' en 'Mandolinato'. Annette Servadel, piano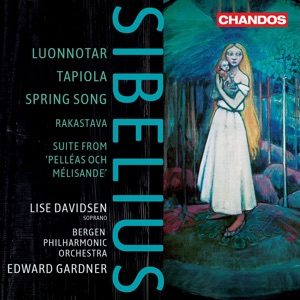 Produced by: