The Night: Contemporary Music
Contemporary Music Night #117 – 50 Years Kronos Quartet #5.
The two-weekly Contemporary Music Night on Concertzender with tonight the Fifth of an Eighteen episode series music of the American Kronos Quartet who celebrate their 50th birthday this year. We play all the records we know of plus some exclusive Dutch radio recordings and a lot of rare collaborations. Tonight Kronos Quartet is David Harrington and John Sherba: violin, Hank Dutt: viola and Joan Jeanrenaud: cello.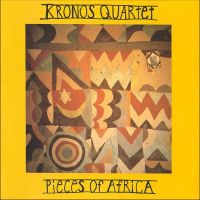 1. Hassan Hakmoun. Saade (I'm Happy)(1991). 3:23
Said Hakmoun: voice. Radouane Laktib: ud, voice. Kronos Quartet.
2. Foday Musa Suso. Tilliboyo (Sunset)(1990). 4:23
Foday Musa Suso: kora. Kronos Quartet.
3. Justinian Tamusuza. Ekitundu Ekisooka (First Movement)(1988). 5.41
Kronoos Quartet.
4. Hamza El Din. Escalay (Waterwheel)(1989). 12:20
Hamza El Din: tar. Kronos Quartet.
5. Obo Addy. Wawshishijay (Our Beginning)(1991).
Obo Addy: percussion, voice. Kronos Quartet.
6. Kevin Volans. White Man Sleeps (1986) I.-V. (22:12)
Kronos Quartet.
7. Dumisani Maraire. Kutambarara (Spreading)(1990). 7:10
Dumisani Maraire: voice, mbira. Kronos Quartet.
CD 1992 – Elektra Nonesuch ‎-79275-2
|
  Short Stories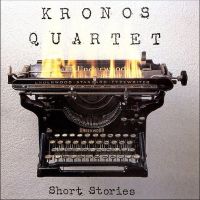 8. Elliott Sharp. Digital (1986). 2:39
9. Willie Dixon / Steven Mackey. Spoonful (1960). 4:32
10. John Oswald. Spectre 91990). 5:47
11. John Zorn. Cat O' Nine Tails (1988). 12:48
12. Henry Cowell. Quartet Euphometric (1916-19). 1:54
Kronos Quartet.
13. Steven Mackey. Physical Property (1992). 14:31
Steven Mackey: guitar. Kronos Quartet
14. Scott Johnson. Soliloquy from How It Happens (1991). 13:13
15. Sofia Gubaidulina. Quartet No. 2 (1987). 8:30
16. Pandit Pran Nath. Aba kee tayk hamaree (1992)(It is my turn, Oh Lord). 10:56
Pandit Pran Nath: voice. John Constant, Terry Riley: tambura. Krishna Bhatt: tabla. Kronos Quartet.
CD 1993 – Elektra Nonesuch ‎- 7559-79310-2
|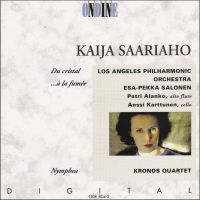 Kaija Saariaho
17. Kaija Saariaho. Nymphea for string quartet and electronics (1987). 18:41
Kaija Saariaho: electronics. Kronos Quartet.
CD 1993 – Ondine ODE 804
|
|
|
|
  Henryk Mikołaj Górecki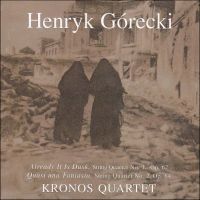 18. Henryk Mikołaj Górecki. String Quartet no. 2, op. 64 "Quasi una fantasia" (1990/91)
I. Largo sostenuto – Mesto. 8:07
II. Deciso – Energico; Furioso, tranquillo – Mesto. 6:47
III. Arioso: Adagio cantabile. 7:27
IV. Allegro – Sempre con grande passione e molto marcato: Lento – Tranquillissimo. 9:31
Kronos Quartet.
CD 1993 – Nonesuch 9 79319
|

  Morton Feldman
19. Morton Feldman. Piano and String Quartet (1985).79:39
Aki Takahasi: piano. Kronos Quartet.
CD 1993 – Nonesuch 7559-79320
|
|
|
|
|
At the Grave of Richard Wagner #1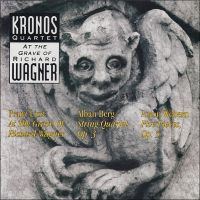 20. Alban Berg. String Quartet, op. 3 (1910) I.-II. 19:16
21. Anton Webern. Five Pieces, op. 5 (1909) I.-V. 10:57
Kronos Quartet.
CD 1993 – Nonesuch ‎– 7559-79318-2
|
|
|
All further information can be found on
www. kronosquartet.org
Produced by: