The Source of Sound
About the matter, the movement and the vibration of which music arises.
Episode 30  – Gilbert Rouget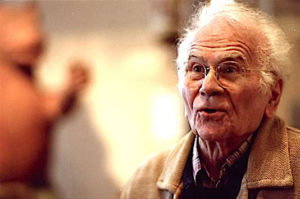 Gilbert Rouget
Last November, Gilbert Rouget passed away at the age of 101 in Paris. He was the most important French ethno-musicologist of the 20th century and has contributed like no other to recording and saving the musical heritage of mankind. He also was a great discoverer and distributor of musical creativity and diversity and has definitely contributed to considerable extent to the salvation and popularity of African music.
Just after the Second World War, in 1946, he left to Gabon and Congo Brazzaville as member of the French Ogooué-Sangha expedition and recorded there together with sound technician André Didier the music for approximately 600 Pyral records. These recordings were so good, that they were also released, and the audience could for the first time learn about the magnificent and beautiful music of the inhabitants of the African rainforest.
These records also made it to the Netherlands and with the opening of the first Cobra exhibition in the Stedelijk Museum in Amsterdam, painter Eugene Brands played these as fitting accompaniment to the modern art.
In this Source of Sound you will hear a selection of the original recordings from 1946 and we take a deep bow to Gilbert Rouget, André Didier and all the other people who performed in front of their microphone. They, undoubtedly, have a seat of honour in the heaven of music.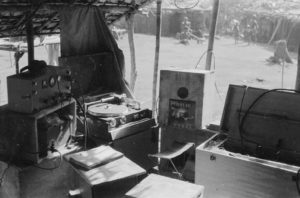 The temporary recording studio with Pyral records and a Sareg recording machine.
The music recordings come from the archive of the CNRS-CREM in Paris. It concerns a selection of the digitalised band copies of the original recorded music in Gabon and Congo in 1946, by a Sareg (Société d'Application Radio-Electrique Garreau) on Pyral records. It concerns the Mission Ogooué-Congo CNRS-CREM CNRSMH_I_1974_013 collection, which can be found on the following website http://archives.crem-cnrs.fr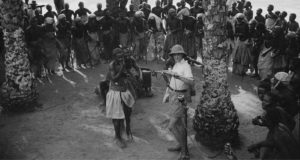 André Didier while recording
01. MUSIQUE FUNERAIRE                                                      4'16
Kukuya (population group) – Lekana (place)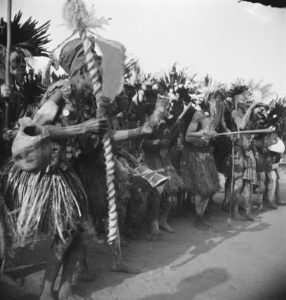 02. DANSE DES FEMMES – 1ERE PARTIE                            4'34
Ewo – Oka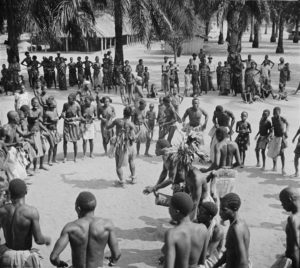 03. DANSE DES BANDITS 1                                                    4'35
Ewo – Oka
04. DANSE ISOGOU 2                                                              4'07
Kuyu – Ouando
05. MUSIQUE DE GUERISON IKANGO                                 4'02
Kuyu – Ouando
06. CHANT IWELE LOYIRU                                                      4'04
Kuyu – Ouando
07. DANSE DJOBOKO 3                                                           3'51
Babinga Babenzele – Gatongo
08. DANSE MOGONGO 1                                                         3'52
Babinga Babenzele – Gatongo
09. DANSE DJOBOKO 12                                                         3'12
Babinga Babenzele – Gatongo
10. DANSE DJOBOKO 13 part 2                                              2'26
Babinga Babenzele – Gatongo
11. RETOUR DE CHASSE 1 part 1                                             0'55
Babinga Babenzele – Gatongo
12. RETOUR DE CHASSE 2                                                       4'06
Babinga Babenzele – Gatongo
13. CHANT YELI 1                                                                        1'33
Babinga Babenzele – Gatongo
14. DANSE ELENDA 1                                                                 4'21
Babinga Babenzele – Gatongo
15. DANSE ELANDA 3                                                                4'22
Babinga Babenzele – Gatongo
16. CHANT DE CHASSE                                                             3'23
Babinga Babenzele – Gatongo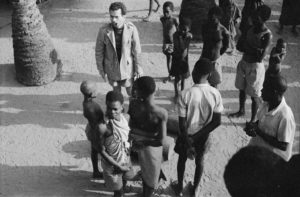 Gilbert Rouget in Ouesso, on his way to Gatongo and Gandicolo for the recordings of the pygmies.
Produced by: