The Source of Sound
The Source of Sound involves the material, the movement and vibration from which music arises.
The Source of Sound 60
Singles from Kenya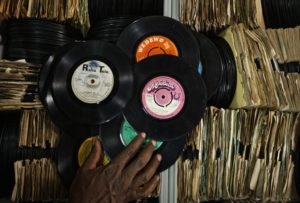 This episode is filled with singles from Kenya. Music on 45 rpm records from the seventies and eighties of the last century, of the Na City Sound Band, Rift Valley Brothers Band, C.K. Jazz Band, and of Congolese bands such as the Mayaula Mayoni Orchestre, Band Bankouyou, the police band Utawala and Jumbo 747 Band. Featuring songs in Swahili, Kikuyu, Luo, Kikamba, the major languages in Kenya, and Lingala, the original Congolese lingua franca. We clearly hear the influence of Congolese musicians who performed in Nairobi in those days. They also recorded albums in the city and even partially lived there. Their pop music style Soukous was a dominant source of inspiration for local musicians. We conclude the programme with a song of praise for Idi Amin, the bloodthirsty dictator of Uganda at the time. This song shows once more that music can be used for anything.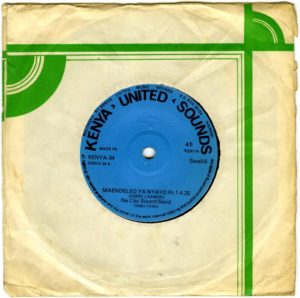 01 maendeleo ya nyayo pt 1                                       4'20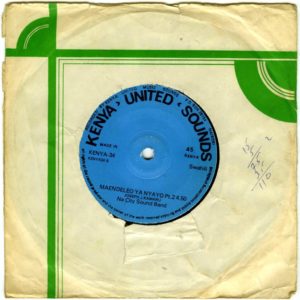 02 maendeleo ya nyayo pt 2                                     4'48
Na City Sound Band
composer Joseph J. Kamaru
Kenya United Sounds 34 A en B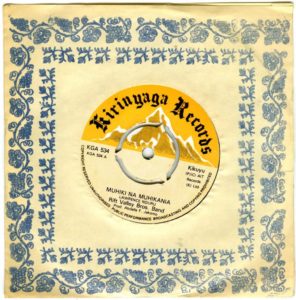 03 muhiki na muhikania                                              4'29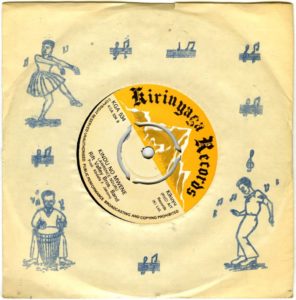 04 kindu no mwene                                                     4'30
Rift Valley Brothers Band
composer Lawrence Nduru
Kiringyaga Records KGA 534 A en B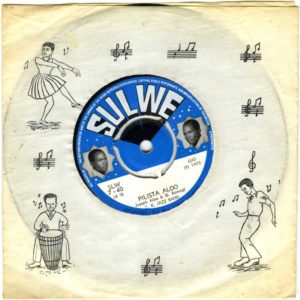 05 pilista aloo                                                                5'17
06 rubinson alago                                                         5'11
C.K. Jazz Band
Composition and lyrics:  Joseph Aloo, G. Ramagi
Sulwe SLW 7-40 A en B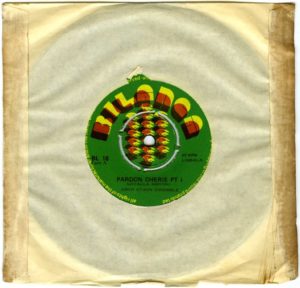 07 pardon cherie pt 1                                                   4'16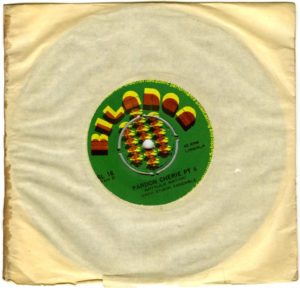 08 pardon cherie pt 2                                                  4'51
Nayaula Mayoni Orchestre Et-Son Ensemble
Bilinga BL 16 A en B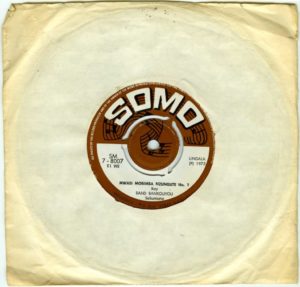 09 mwasi mobimba nzungute no 1                          4'47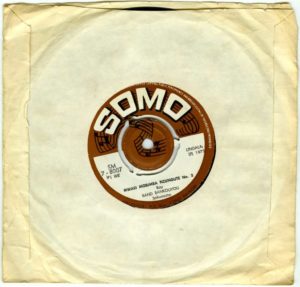 10 mwasi mobimba nzungute no 2                          4'49
Band Bankouyou
composer Ray
Somo SM 7-8007 A en B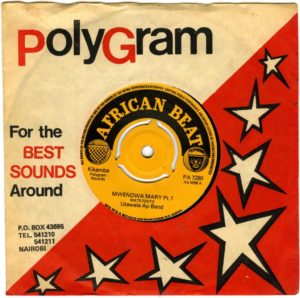 11 mwendwa mary pt 1                                                4'35
Utawala Ap Band
composer Mate Festo
Polygram Records PA 7280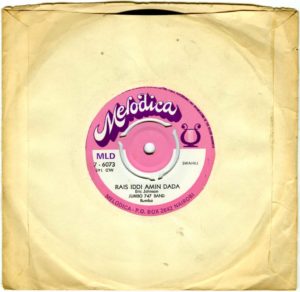 12 rais iddi amin dada                                                  5'16
Jumbo 747 Band
composer Eric Johnson
Melodica MLD 7-6073
Produced by: