Theme
In Earwitness #67: 'Everything in memory of you…', our series about 20th-century Russian music, the Red Army advances towards Berlin. With a perceptive eye for the art treasures in the utterly ruined city of Dresden.
During the three years of service, Herman Galynin took a lot of time for stage and music activities for the Soviet soldiers. His stage music for Shakespeare's 'Taming Shrew', in Andrei Goncharov's production, had its premiere in 1944 at the Front theatre of the Russian Stage Society. Three fragments have been retained and are played by pianist Olga Solovjeva (picture on the right).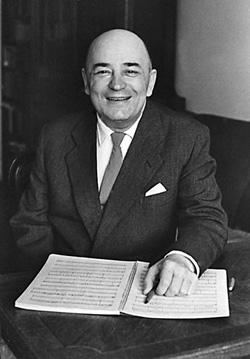 In 1944, Dmitri Sjostakovich wrote to his friend Vissarión Sjebalín (picture on the left) that the "mad speed at which I am composing worries me. It is probably not a good thing. […] It is after all a very serious process, which you shouldn't 'gallop' through, so to say. But my dear Ronja, I recently realized that it has been twenty years since we first met; to celebrate that jubilee, I want to dedicate this second string quartet that I am working on at the moment, to you. And remember, never look a gift horse in the mouth." The original Beethoven Quartet plays the Second String Quartet by Sjostakovich.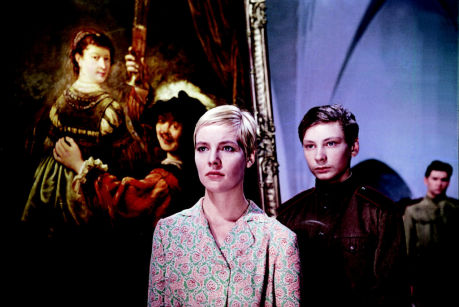 In 1960, the composer was asked by Leo Arnstram, an old friend that he used to study with, to make the soundtrack for 'Five Days, Five Nights'. A film that is not so much about the 'saving of the art treasures' from the utterly ruined city of Dresden, says the director, that it is about the "meaning of genuine humanism in the fight for a human's own heart and soul".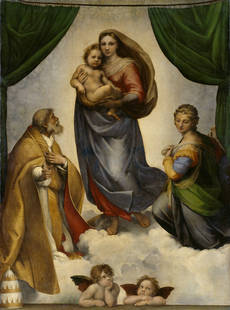 This first Soviet-East German co-production sings of the combined efforts of the completely shattered German people and the art-loving Red Army. From cellars and caverns under the rubble, they reveal the works that have been brought to safety: Titiaan, Velasquez, Rubens, Rembrandt, Manet and Degas, and best of all the 'Sistine Madonna' by Rafaël (picture on the left). In a 30-carriage train, they were transported to Moscow where they would be safe. But more importantly, on 25 August 1955, these 1240 works from the Zwinger, Grünes Gewölbe and Albertinum collections, were festively handed over to the GDR. The parts are: Introduction, Dresden in Ruins, Dresden Liberated, Interlude and Finale.
Zara Levina was born in Simferopol on Crimea in 1906, the same year as Sjostakovich. From her you may already have heard, in the Earwitness about the Russian viola broadcast, the poem that premiered in Moscow in 1930 with viola player Vadim Borisovski, whom you just heard in the Beethoven Quartet. She wrote the second Piano concert in 1943-1945. The second part was dedicated to all who gave their lives defending their country. Motifs by cossacks and Crimean Tatars sound like memories of her birthplace. 
Sjostakovich's Ninth did not become the Beethoven equivalent that Stalin expected after the final victory. Not at all – its nickname was even 'symphony for children'. According to Volkov's 'Testimony', Sjostakovich told his friends: "What they wanted from me was a flourish, a tribute. They wanted me to write a majestic Ninth Symphony. When the work was performed, Stalin was furious. He was deeply insulted by the fact that there was no choir, no solists, no grand finale or even a cheap assignment." The work premiered on 3 November 1945 played by the Leningrad Philharmonic Orchestra led by Jevgeni Mravinski, who scrapped it from his repertoire after the first few performances. The work had a devastating reception, described as "utterly devoid of understanding of contemporary issues", "a falsification of reality", completely "lacking in ideas" and "apolitical".
We close with the war song 'Cossacks in Berlin' by the brothers Dmitri and Daniël Pokráss, text written by Tsésar Solodárj.
1. Herman Hermanovitsj Galynin (Toela 30 March 1922 – Moscow 18 July 1966).
Three pieces from 'Taming Shrew': 1) Gavotte, 2) Intermedio, 3) Mars: Procession (The gifts are being brought).
Olga Solovjeva, piano.
Toccata TOCC 0076.
Dmitri Dmitrijevitsj Sjostakovich (1906-1975).
2. String quartet no. 2 in A opus 68 (1944), to Vissarion Jakovlevich Sjebalin: 1) Overture, 2) Recitative and romance, 3) Wals, 4) Theme with variations.
Beethoven Quartet: Dmitri Tsyganov, Vasili Sjirinski, violin. Vadim Borisovski, viola Sergei Sjirinski, cello.
Doremi DHR-7911-5.
3. Suite from film music 'Five Days, Five Nights' by Leo Arnstam (1960): 1) Introduction, 2) Dresden in Ruins, 3) Dresden Liberated, 4) Interlude and Finale.
Berlin Radio Symphony Orchestra led by James Judd.
Capriccio 10 341/42.
4. Zara Aleksandrovna Levina (1906-1976).
Piano concert no. 2 in e minor (1943-1945).
Boris Petroesjanski, piano, Moscow Symphony Orchestra led by Veronika Doedarova.
Russian Disc RD CD 11 382.
5. Dmitri Dmitrijevich Sjostakovich(1906-1975).
Symphony no. 9 in Des opus 70 (1945): 1) Allegro, 2) Moderato, 3) Presto, 4) Largo, 5) Allegretto – Allegro.
State Symphony Orchestra Department of Culture Soviet Union led by Gennadi Rozjdestvenski.
Brilliant Classics 9019/7 Gennady Rozhdestvensky Edition.
6. Dmitri (1899-1978) and Daniël (1905-1954) Jakovlevich Pokrass.
Cossacks in Berlin, text Tsesar Samoilovich Solodarj (1909-1992)
Soloist: Ivan Dmitrijevitsj Sjmeljov (1912-1960).
Bomba Piter CDMAN 384-09.
Producer: