Theme
Earwitness #68. 'Everything in memory of you…', our series about Russian music from the 20th century. On 12 January 1945, the Red Army broke through the German front at the Vistula-Oder offensive. What followed was the Battle of Berlin, from 20 April to 2 May.
  
Olga Solovjeva plays the Suite of Herman Galynin from 1945, with the Toccata, Intermezzo, Dance, Aria and Finale parts.
In 1994, Mieczysław Weinberg composed his children's songs based on poetry by Polish-Jewish poet Itzjok Lejb, with Sjolem Aleichem the father of modern Yiddish literature. In 1943, Sjostakovitsj brought him to Moscow from Tasjkent, where Weinberg had stayed since the war and got married to Natalja Vovsi, daughter of director-actor Solomon Michoëls. The parts are: Introduction, the rolling pin, cradlesong, the hunter, on the green mountain hill, and sadness (letter of an orphan).
Biographer Krzysztof Meyer counts the 3rd String Quartet from 1946 among Sjostakovitsj's greatest accomplishments. After the premiere, pianist and educator Konstantin Igoemnov wrote: "This person sees and feels life a thousand times deeper than all of us, other musicians, together." The composer himself also regarded it as one of his most successful works, so he wrote to pupil Edison Denisov in 1950.
Krzysztof Meyer: "It was the final link in a beautiful chain of compositions that some way or another were connected thematically with war, evil and violence." You can hear the same Beethoven Quartet that premiered the work in Moscow on 16 December 1946.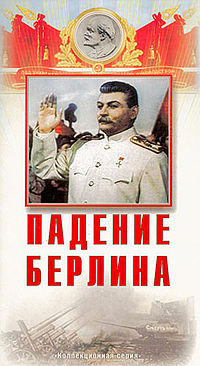 'The Fall of Berlin' is a monumental 2-part Mosfilm production from 1949 by Georgian director Michail Tsjaureli. The film is one of the "artistic war documentaries" that sing praises of the superhuman hero part played by the 'Verchóvni', Supremo Stalin. The fitting lyrics were delivered by Jevgeni Dolmatovski, who encountered Sjostakovitsj in the train from Moscow to Leningrad. The poet got him to work on the music for this and other soviet propagandas using his lyrics. Conductor Kirill Kondrasjin remembered that Sjostakovitsj entrusted him the following: "At the moment I'm working on film music. It is sad that it had to come to this. Should you ever have to do something like this, then do it only if you absolutely have to!" The finale shows Stalin, played by Michaíl Gelováni, standing amongst the people on the Berlin airport to congratulate his troops with the final victory (picture).


More on the utter need that Sjostakovitsj spoke of to Kondrasjin in the next 'Earwitness'.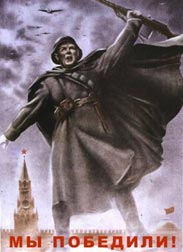 More happiness now of Sergej Prokofjev, who wrote his 'Ode to the End of the War' in 1945. The composer wrote that he wanted to use this to "glorify the coming of peace" and "the joy of peaceful labour and the pathos of restoration". An alibi for an unorthodox strength without strings with eight harps, four pianos, three tubas, three saxes and an expansive copper and wind instruments section. Prokofjev took more time orchestrating than it took to compose this musical equivalent of a 'stalinski tort', A soviet baroque skyscraper.
We close with 'Zoloesjka is pulling my leg' from the film 'Zoloesjka', Cinderella, from 1947. The soloist is lead Janina Zjejmo. For the remaining time that follows she will sing 'Sweet little beetle'.
1. Herman Hermanovitsj Galynin (Toela 30.3.1922 – Moskou 18.7.1966).
Suite (1945): 1) Toccata, 2) Intermezzo, 3) Dance, 4) Aria, 5) Finale.
Olga Solovjeva, piano.
Toccata TOCC 0076.
2. Mieczysław Weinberg  (1919-1996).
Children's songs opus 13 (1944): 1) Introduction, 2) The rolling pin ('Breytele'), 3) Cradlesong ('Viglid'), 4) The hunter ('Der jeger'), 5) On the green mountain hill ('Oyfn grinem bergele') and 6) Sadness ('Der yesomyes brivele').
Olga Kaloegina, soprano. Dmitri Korosteljov, piano.
Toccata TOCC 0078.
Dmitri Dmitrijevitsj Sjostakovitsj (1906-1975).
3. String Quartetno. 3 in F opus 73 (1946), at the Beethoven Quartet: 1) Allegretto, 2) Moderato Con Moto, 3) Allegro Non Troppo, 4) Adagio, 5) Moderato.
Beethoven Quartet: Dmitri Tsyganov, Vasili Sjirinski, violin. Vadim Borisovski, viola. Sergej Sjirinski, cello.
Doremi DHR-7911-5.
4. Music to Michail Tsjaureli's film 'The Fall of Berlin' opus 82 (1949-1950): 1)  Intro part 1, 2) A beautiful day, 3) Aljosja bij de rivier, 4) Stalin's garden, 5) Aljosja and Natalja in the field – Attack, 6) Hitler's reception, 7) In the ruined village, 8) Forward!, 9) Intro part 2, 10) Appeal – Night offensive, 11) Storming the Seelov-heights, 12) U-Bahn station flooded, 13) De ultimate battle for the Reichstag – Kostja's death, 14) Joesoef's death – The red flag, 15) Stalin on the Berlin airport, 16) Finale: Stalin's speech, reunion of Aljosja and Natalja.
Moscow Boy's Choir, Capella and Symphony Orchestra led by Adriano.
Marco Polo 8.223897.
5. Sergej Sergejevitsj Prokofjev (1906-1975).
Ode to the End of the War, opus 105 (1945).
Great USSR Broadcast Symphony Orchestra led by Leonid Nikolajev.
Consonance 81-5008.
6. Antonio Spadavekkia (1907-1988).
'Zoloesjka is pulling my leg' en 'Sweet little beetle' from the film 'Zoloesjka' by Nadezjda Kosjeverova and Michail Shapiro (1947).
Janina Zjejmo (1909-1987).
Velikije i Nepovtorimyje MKM 152.
Producer: