Theme
Earwitness #71: the great friendship. After the war, Stalin and Andrej Zjdanov wanted to weld together the war's patriotism with the revolutionary Bolshevism. In order to do that, it was necessary to attack all modernism, christened 'formalism', and foreign influences, 'cosmopolitism'.
On 18 April 1946, Zjdanov launched his "Zjdanovsjtsjina" with an attack on Anna Achmatova, "half nun, half whore", or better yet "a nun whore who mingles her sins with prayers", and satirist Michail Zosjtsjenko, whose stories were read by Stalin to his children.
Vera Doelova plays the Dance Suite by Aleksandr Mosolov, a modernist from the days of revolution who was already a victim of 'Lenin's bridal veil' at the time.
After the writers and film makers, it was the musicians' turn in 1948. As emperor Josef II, who said Mozart needed too many notes, Zjdanov played the piano in order to let Sjostakovitsj and co. hear "what the people want to hear". Following a decree by the Central Committee about the opera 'The great friendship' by Vanó Moeradéli, the Union of Composers took the official offensive on 10 February 1948.
Galina Visjnévskaja (photo on the right) explains: "That move was set up by Tichon Chrennikov. 'Tisjka' had always been there for Sjostakovitsj, whom he regarded as a god. But in the meantime he had grown into a clever, calculating courtier."
As secretary-general of the Union of Composers, Chrennikov opened fire on 'formalists' Sjostakovitsj (below in the middle), Prokofjev (left), Chatsjatoerjan (right), Sjebalin, Popov and Mjaskovski.


Galina Visjnevskaja: "Early 'Proletkult' songs, that strong race, crawled out of their holes and joined the fray. Meetings were held not only in theatres and conservatories, but also in institutions that had nothing to do with art and where speakers first uttered the words 'formalism' and 'cosmopolitism', and could barely pronounce them. It was an opportunity to fan the national fire and settle old scores."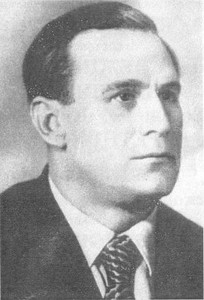 The composers lost their jobs and their works were no longer played. Former pupils like Herman Galynin (left), a pupil of Sjostakovitsj and Mjaskovski, fell victim. Their works were now judged by means of how much they had been freed from "contamination". Galynin was greatly affected by these attacks and would develop schizophrenia not long after.
First, you can listen to Olga Solovjeva, who plays his piano suite 'In the zoo', started in 1948 and finished in 1965, a year before his and Achmatova's deaths. After that you can hear his First Piano Concert from 1946, heavily critisized by Chrennikov, who would go on to deny the same negative designations later. 
Sergej Salov and I Musici de Montréal perform the First Piano Concert of Herman Galynin, who would pass away in 1966.
In the same year, poet Jevgeni Jevtoesjenko dedicated the poem 'Moral Torment' to Sjostakovitsj, with such lyrics as: 
'Even those who protect injustice
And have lost their own honor in doing so
Who have rid themselves of any conscience
Will not leave the agonizing remorse in peace."
The campaign of terror also led to new socalistic, realistic works, such as Sjostakovitsj' oratory 'Song of the woods' in 1949, a song praising Stalin's reafforestation campaign. Dmitri Kitajenko, who would become a conductor later, was nine years old when he sung at the premiere. Today you can hear tenor Vitali Kilitsjévski, the bass of Ivan Petrov, the USSR State Symphony Orchestra, Russian State Academic Choir and Boy Choir of the Moscow Choir College with conductor Jevgeni Mravinski in a recording from the same year: 1949.
During the thirtiest anniversary of the October Revolution in 1947, focussing more on agriculture and cornfields, Sergej Prokofjev was inspired to his cantata 'Flourish, mighty land!' to lyrics by soviet poet Jevgeni Dolmatovski. 
Both Prokofjev and Sjostakovitsj could deliver what was expected, but without saying what they really thought. Right after the attack of February 1948, Sjostakovitsj began an entirely new piece of work "at the desk drawer", a satiric one-acter that he called "Anti-formalistic magic lantern", "rajok" in Russian. It was, not coincidentally, the only piece he wrote his own lyrics for. Acting is what brings all music bigwigs together about 'realism and formalism in music', with a prominent role for number 1 [Jedinitsyn], no. 2 [Dvojkin] and no. 3 [Trojkin]. You can see that number 1 is Stalin when you see that it uses his favorite Georgian folk melody 'Soeliko', that number 2 is Andrej Zjdanov because of the 'Lezginka', and that number 3 is supposed to be a musicologist like Chrennikov or party ideologist Dmitri Sjepilov, because of its opening with Glinka's 'Karainskaja'. The apotheosis is 'the mother of all folk songs', 'Kalinka'. To bring it across properly, we first play these four melodies, performed by the Choir of the Red Army, then the Royal Philharmonic Orchestra with conductor Joeri Temirkanov with the Lezginka from Chatsjatoerjan's ballet Gajanè, followed by the Kamarinskaja with the Orchestra of the Red Flag ensemble with balalajka soloists, and last but not least, Kalinka with, once again, the Choir of the Red Army. After that, you can hear Fjodor Koesnetsov's bass, the Peterburg Youth Choir and pianist Joeri Serov with the 'Anti-formalistic magic lantern show' by Dmitri Sjostakovitsj.  
In the next Earwitness, more musical cryptograms and more terror. Because while Andrej Zjdanov died in August 1948, that would not end the terror. On the contrary. 
1. Aleksandr Vasiljevitsj Mosolov (1900-1973).
Dance Suite (1947): 1) Menuet in c, 2) Gavotte in F, 3) Waltz in D, 4) Polka in Es, 5) Galoppe in C.
Vera Doelova, harp.
Talents of Russia RCD 16205.
Herman Hermanovitsj Galynin (1922-1966).
2. In the zoo (1948/'65): 1) Siskin, 2) Little hare, 3) Bear, 4) Swans, 5) Elephant.
Olga Solovjeva, piano.
Toccata TOC 0076.
3. First Piano Concert (1946): 1) Allegro, 2) Andante, 3) Allegro vivo.
Sergej Salov, piano, and I Musici De Montréal led by Joeli Toerovski.
Shostakovich's Circle / Analekta AN 2 9898.
4. Dmitri Dmitrijevitsj Sjostakovitsj (1906-1975).
Oratory 'Song of the woods', opus 81 (1949): 1) When the war ended, 2) Let us cover the motherland in woods, 3) Memory of the past, 4) Pioneers planting the woods, 5) Komsomol people come forth, 6) March of the future, 7) Glory.
Vitali Kilitsjevski, tenor, Ivan Petrov, bass, the USSR State Symphony Orchestra and Russian State Academic Choir and the Youth Choir of Moscow Choir College led by Jevgeni Mravinski, recording Leningrad 1949.
Melodija MEL CD 10 0771.
5. Sergej Sergejevitsj Prokofjev (1891-1953).
Flourish, mighty land!, cantata at the 30th anniversary of the October Revolution, opus 114 (1947).
Russian State Symphonic Cappella and Orchestra led by Valeri Poljanski.
Chandos CHAN 10056.
6. 'Soeliko', arr. Dmitri Oleg Jatsjinov.
Choir Red Army.
SILKD 6034.
7. Aram Iljitsj Chatsjatoerjan (1903-1978).
'Lezginka' from ballet suite 'Gajanè', opus 50 (1941-1942).
Royal Philharmonic Orchestra led by Joeri Temirkanov.
Olympia MKM 220.
8. 'Kamarinskaja'.
Balalajka soloists and Orchestra Red Flag ensemble led by V. Samsonenko.
MEL CD 20 00588.
9. 'Kalinka', arr. Dmitri Oleg Jatsjinov.
V. Tsjtefoetsa and Choir Red Army.
SILKD 6034.
10. Dmitri Dmitrijevitsj Sjostakovitsj (1906-1975).
The anti-formalistic magic lantern show (1948-1968).
Fjodor Koesnetsov, bass; Petersburg Youth Choir and Joeri Serov, piano.
DELOS DE 3313.   
Producer: