Theme
Ear Witness #73: Back to the 'Jew-S-A'. 'Everything in memory of you…' In our series about Russian 20th century music you will hear music by Russian-Jewish musicians in their second country, the United States.
This is how we came across Arthur Lourié, composers who we got to know at the Jewish Renaissance (Joodse Renaissance) and some child prodigies of Leopold Auer, like Jascha Heifetz and Joseph Achron with their teacher.
We will open with the ninth piano sonata by Sergej Prokofjev, that was completed in 1947. He dedicated this work to Svjatoslav Richter, who played it for him at the celebration of his 60th birthday in 1951. You will hear Richter in a recording of 1956. It was supposed to be the composer's last piano piece, that together with the Sixth Symphony was awarded with the Stalin prize. After this the 'Zjdanov' doctrine would silence him creatively forever. In 1948 his wife Lina was sentenced to 20 years imprisonment for espionage, because she transferred money to her mother in Spain. She was released after Stalin's death on 5 March 1953. Unfortunately on the same day her husband died. 
Irving Schlein (on the right) was born on 18 May 1905 to poor Russian-Jewish immigrants in "borshch-belt", the Lower East Side of Manhattan. Initially he followed the wish of his parents to study "something practical" and became pharmacist. After his graduation though he chose completely for music. He studied the piano and composition at the Juilliard School and with Aaron Copland at de Henry Street School of Music. Schlein worked together with pianist Al Jolson on Broadway hits like Cole Porters "Can-Can" and "Silk Stockings" and was the assistant of Kurt Weill in the 1940's. He effortlessly composed until his death in 1986, but unfortunately few of his works were recorded. His son Peter Schlein changed that with a unique project in Petersburg from 2001 to 2008, when he produced 13 CD's with all chamber music with the help from Russian musicians and Boris Tisjtsjenko. It also includes the Sonata Hebraica for viola and piano from 1950, that you can hear in a version by viola player Andrej Dogadin and pianist Pavel Eliasjevitsj. The parts: Andante, Allegretto, Allegro and Molto Maestoso. 
 
Another American star who you could have met in our series Perestrojka, is Vernon Duke. This White Russia by birth composed besides his countless Broadway hits also classic works under his birth name Vladimir Doekelski. In 1946 that was a concert for cello and orchestra on the request of Ukrainian cellist Gregor Pjatigorski and director Sergej Koesevitski. You will hear an execution by cellist Sam Magill and the Russian Philharmonic Orchestra led by Dmitri Jablonski.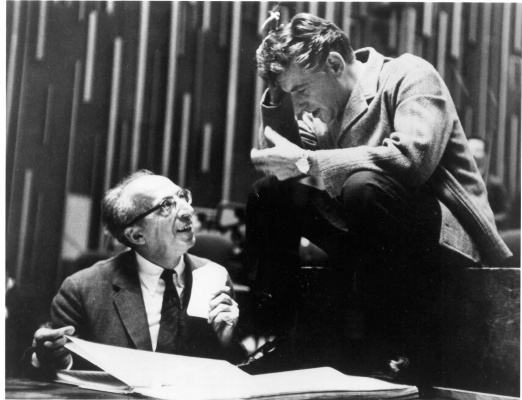 How American do you want it? A good contestant as grand finale of the 'Jew-S-A' is the Third Symphony by Aaron Copland from 1946, including his war hit 'Fanfare for the Common Man' in the last part. Of course nobody can perform this work better than Copeland's student and protege Leonard Bernstein with his New York Philharmonic (above on the left the composer and conductor together on a photo by Bert Bial). You have gotten to know both of them in a previous Ear Witness about Vitebsk. The parts are Molto moderato – with simple expression, Allegro molto, Andantino quati allegretto and Molto deliberato. You will hear a recording from the Avery Fisher Hall in New York City in February 1966.
1. Sergei Sergeyevich Prokofiev (1891-1953).
Pianosonate no 9 in C opus 103 (1947): 1) Allegretto, 2) Allegro strepitoso, 3) Andante tranquillo, 4) Allegro con brio.
Svjatoslav Richter, piano (recording Moscow September 1956).
Archipel Records ARPCD 0465.
2. Irving Schlein (New York City 18.5.1905 – 11.7.1986). 
'Sonata Hebraica' for viola and piano (1950): 1) Andante, 2) Allegretto, 3) Allegro – Dance, and 4) Molto Maestoso. 
Andrei Dogadin, viola, Pavel Eliasyevich, piano.
Pomeron Publishing PPC-2005-04.
3. Vladimir Aleksandrovich Doekelski (Vernon Duke) (Parafjanava (Vitebsk) 27.10.1903, Russia – Santa Monica, California 16.1.1969).
Concert for cello and orchestra (1945): 1) Maestoso; 2) Adagietto, 3) Allegro brioso.
Sam Magill, cello, Russian Philharmonic Orchestra led by Dmitri Jablonski.
Naxos American Classics 8.559286.
4. Aaron Copland (1900-1990).
Symphony no 3 (1944-1946): 1) Molto moderato – with simple expression, 2) Allegro molto, 3) Andantino quati allegretto, 4) Molto deliberato. 
New York Philharmonic led by Leonard Bernstein.
Sony Classical SMK 63155. 
Producer: