Through the Night: World Music
Through the Night with Dutch Tango.
Carel Kraaijenhof
In this Nights of Dutch tango we definitely don't want to limit the tango to the Netherlands. Our aim is to listen to several musical productions from the Netherlands and Flanders that have contributed to the tango tradition and innovation. Because the global music mosaic certainly has its local sound and color.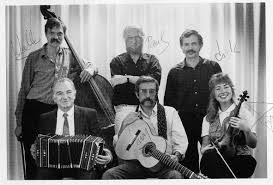 Sexteto Tango Al Sur
With recordings from the orchestras: Sesteto Canyengue van Carel Kraayenhof, Cuarteto Rotterdam (Michael Dolak), Quinteto Tango Extremo (Tanya Schaap), Quinteto Zárate (Micha Molthoff) en Orquesta Tango Dorado (Christiaan van Hemert), Sesteto Tango 02 (Patrick Vankeirsbilck), Pavadita String Quartet (Sophie de Rijk), Wim Warman en Ruud Bergamin, Mala Pinta (Gerard van Duinen), Sexteto Tango Al Sur (Dirk van Esbroeck en Juan Masondo), Tango Cuatro, Trio Nocturna (Charlotte Dupuis), La sieste du dromadaire (Ananta Roosens).
The first numbers (three digits) indicate the order of the playlist.
The second numbers (two digits) indicate the order on the CD.
111 14 Recuerdo [2.51]  Carel Kraayenhof, Tango Heroes
112 11 Desde el Alma [3.15] Carel Kraayenhof, Tango Heroes
113 12 Zorro Gris [3.50] Carel Kraayenhof, Tango Heroes
114 13 Acquaforte [2.41] Carel Kraayenhof, Tango Heroes
121 07 Malena [2.41] Cuarteto Rotterdam, Cuarteto Rotterdam
122 01 La Bordona [3.54] Cuarteto Rotterdam, Cuarteto Rotterdam
123 09 Alma de Bandoneon [3.24] Cuarteto Rotterdam, Cuarteto Rotterdam
124 07 Desde el Alma [3.11] Cuarteto Rotterdam, Yunta de Oro
125 06 Danzarin [3.53] Cuarteto Rotterdam, Yunta de Oro
131 01 Milonga de Mis Amores [2.27] Tango Extremo, Fantango
132 11 Romance de Barrio [4.23] Quinteto Tango Extremo, Erase una Vez
133 05 Los Mareados [2.47] Quinteto Tango Extremo, Una Cosa Diferente
141 07 Comme il Faut [2.27] Quinteto Zarate, Cotorrita de la Suerte
142 04 Taquito Militar [2.50] Quinteto Zarate, Cotorrita de la Suerte
143 02 Felicia [2.45] Quinteto Zarate, Cotorrita de la Suerte
144 01 Julian [2.45] Quinteto Zarate, Cotorrita de la Suerte
151 09 Vuelo del Moscardon [2.40] Tango Dorado, Old Places and New Grounds CD 1
152 04 Ilusion de Mi Vida [2.46] Tango Dorado, Old Places and New Grounds CD 1
153 03 Nostalgias [3.20] Tango Dorado, Old Places and New Grounds CD 1
154 02 Afiches [3.16] Tango Dorado, Old Places and New Grounds CD 1
211 06 Resurrecion del Angel [5.56] Carel Kraayenhof, Street Tango
212 01 Ausencias [3.59] Carel Kraayenhof, Street Tango
213 05 Tres Minutos con la Realidad [3.13] Carel Kraayenhof, Street Tango
214 09 El Titere [2.05] Sexteto Canyenge, Piazzolla Bien Canyengue
215 11 Fuga y Misterio [3.35] Sexteto Canyenge, Piazzolla Bien Canyengue
221 03 MIJardin Sesteto, Tango 02
222 05 Torbelino Sesteto, Tango 02
223 04 Regreso Sesteto, Tango 02
231 02 Milonga del Angel [6.32] Cuarteto Rotterdam, Cuarteto Rotterdam
232 05 Soledad [7.56] Cuarteto Rotterdam, Cuarteto Rotterdam
233 12 Oblivion [4.05] Cuarteto Rotterdam, Yunta de Oro
241 12 Fantango [3.23] Tango Extremo, Fantango
242 11 Oblivion [5.12] Tango Extremo, Fantango
243 09 Escoregando [2.45] Tango Extremo, Fantango
311 09 Pueblo [2.24] Pavadita String Quartet, Cuerdas con Fueye
312 05 Romance de Barrio [2.27] Pavadita String Quartet, Cuerdas con Fueye
313 07 Responso [3.53] Pavadita String Quartet, Cuerdas con Fueye
314 06 Melancolico [3.04] Pavadita String Quartet, Cuerdas con Fueye
321 05 El Mision Impossible [2.31] Quinteto Zarate, Cotorrita de la Suerte
322 06 Mersa Burrera [2.43] Quinteto Zarate, Cotorrita de la Suerte
323 10 Sleep [3.05] Quinteto Zarate, Cotorrita de la Suerte
331 09 Homenaje a Pedro Laurenz [3.04] Quinteto Zarate, Cotorrita de la Suerte
332 03 Rico [2.26] Quinteto Zarate, Live in België 
333 09 Gran Hotel Victoria [3.29] Quinteto Zarate, Live in België
334 11 Camino [6.56] Quinteto Zarate, Live in België 
335 02 Beretin [2.26] Quinteto Zarate, Live in België 
341 01 Like a Tango [5.20] Wim Warman, TangoZZs
342 02 Bordoneando [6.36] Wim Warman, TangoZZs
343 05 Che Bandoneon [5.45] Wim Warman, TangoZZs
344 04 Malena [4.49] Wim Warman, TangoZZs
411 01 Gerard van Duinen, Mala Pinta – El sordo
412 02 Gerard van Duinen, Mala Pinta – Marabú
413 03 Gerard van Duinen, Mala Pinta – Nostalcólico
421 02 Matilda [4.01] Pavadita, Live in Ijmuiden
422 01 Falta [2.45] Pavadita, Live in Ijmuiden
431 06 Le Clown Perdu [4.21] Quinteto Tango Extremo, Una Cosa Diferente
432 04 Tango Fugato [8.42] Quinteto Tango Extremo, Una Cosa Diferente
433 01 Cancion del Salmon [5.53] Quinteto Tango Extremo, Una Cosa Diferente
441 04 Sleep [3.15] Quinteto Zarate, Live in België 
442 01 Drop [3.44] Quinteto Zarate, Live in België 
443 07 Moods [2.35] Quinteto Zarate, Live in België
451 02 Ocho [4.48] Vincent van Warmerdam, Ocho
452 10 Vals, Twango [2.40] Vincent van Warmerdam, Ocho
453 05 Tango Factura [3.18] Vincent van Warmerdam, Ocho
454 01 Stella [3.20] Vincent van Warmerdam, Ocho
511 07 No Me Toquen ese Vals [2.59] Sexteto Tango Al Sur, Van Esbroeck Y Masondo
512 02 Bandoneon Arrabalero [2.37] Sexteto Tango Al Sur_Van Esbroeck Y Masondo
513 13 De Passie voor het Spel [3.28] Sexteto Tango Al Sur, Van Esbroeck Y Masondo
514 05 Niet veel Meer [3.36] Sexteto Tango Al Sur, Van Esbroeck Y Masondo
515 08 Galop [2.17] Sexteto Tango Al Sur, Van Esbroeck Y Masondo
516 09 Rookgordijnen [2.33] Sexteto Tango Al Sur, Van Esbroeck Y Masondo
517 12 Cadans [2.45] Sexteto Tango Al Sur, Van Esbroeck Y Masondo
518 01 Lied van Welk Verdriet [3.19] Sexteto Tango Al Sur, Van Esbroeck Y Masondo
519 04 Naar Je Gunsten Dingen [4.26] Sexteto Tango Al Sur, Van Esbroeck Y Masondo
521 08 Het Helderziende Papegaaitje [2.03] Quinteto Zarate, Cotorrita de la Suerte
522 15 Mijn Liefje [2.11] Quinteto Zarate, Cotorrita de la Suerte
531 08 Silueta Portena [2.05] Tango Cuatro, Tango Cuatro
532 06 La Ultima Curda [5.40] Tango Cuatro, Tango Cuatro
533 04 Los Pajaros Perdidos [4.17] Tango Cuatro, Tango Cuatro
534 02 Que Tango Hay Que Cantar [3.26] Tango Cuatro, Tango Cuatro
535 01 Amurado [3.14] Tango Cuatro, Tango Cuatro
541 10 Recusa [2.20] Trio Nocturna, Xongo
542 07 Chiquilin de Bachin [4.11] Trio Nocturna, Xongo
543 02 La Llorona [3.30] Trio Nocturna, Xongo
611 14 Todo fugaz II Ananta Roosens, La sieste du dromadaire
612 08 Feu d'arty fish Ananta Roosens, La sieste du dromadaire
613 04 Waltzing Mafalda Ananta Roosens, La sieste du dromadaire
621 01 Mato Negro Tex [8.56] Quinteto Tango Extremo, Erase una Vez
622 02 Opera do Malandro Teresinha [4.42] Quinteto Tango Extremo, Erase una Vez
623 03 Opera do Malandro Palavra de Mulher [3.19] Quinteto Tango Extremo, Erase una Vez
631 06 Twango [2.24] Vincent van Warmerdam, Ocho
632 07 Nussin [3.41] Vincent van WarmerdamOcho
633 08 Mexico, Kilo, Whiskey [8.19] Vincent van Warmerdam, Ocho
641 05 Milonga para Anja [4.41] Wim Warman, The Forest
642 02 The Forest [6.42] Wim Warman,The Forest 
Finale: The Rough Guide to Tango, (2009), RG net 1219