Vredenburg Live
Live concert by Amira Kheir, recorded on 9 February 2013 at Leeuwenbergh, Vredenburg, Utrecht
Amira Kheir is a Sudanese-Italian singer-songwriter. During this concert for World Session she will play some songs of her debut album 'View From Somewhere', but also a couple of her new songs.
Her songs are about a world where there is room for peace, love and unity. To accomplish that she calls on the world to suppress oppression, corruption and injustice.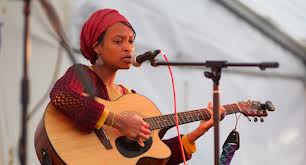 Ya Gadir, Amira Kheir
Habibi Taal, Amira Kheir
Al Sahraa, Amira Kheir
Sera , trad.
Kasr Almiraya, Amira Kheir
Ma'assalama, Amira Kheir
Kallim Gamarina, Amira Kheir
Allaleya, Amira Kheir (a short piece of circa 1 minute)
The sound enigneer is Wijnand de Groot, the producer is Geeske Coebergh.
Producer: