World Minerals
A tribute to Chiwoniso.
In this episode of World Minerals, we pause for a moment at the sudden death of Chiwoniso Maraire. The Zimbabwean artist died in July at the age of 37. Chiwoniso was the daughter of the mbira player and musicologist Dumisani Maraire, and just like him a gifted musician.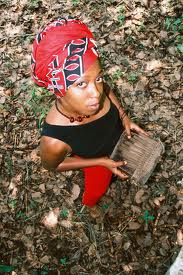 As mbira player and singer, Chiwoniso stood in the century-old musical tradition of the Zimbabwean Shona. The mbira consists of a wooden board with attached metal tines which are played with the thumb. Traditionally, the instruments is often amplified by a calabash, but nowadays this is also often done electronically.
Chiwoniso played traditional mbira music, but was also very familiar with contemporary music. She had connection with hiphop, soul and jazz.
In this episode, you hear a selection of her versatile repetory. Rest In Peace Chiwoniso.
Chiwoniso. Handumbozorora. Timeless (2004). Metro studios B0061QPLM4
Chiwoniso. Matsotsi. Rebel Woman (2008). Cumbancha B0014GFHZW
Chiwoniso. Listen to the breeze. Rebel Woman (2008). Cumbancha B0014GFHZW
Dumisani Maraire & Ephat Mujuru. Chemutengure. Shona Spirit (1995). Music of the World B000003IT0
Dumisani Maraire & Mujuru. Chembere dze Musango. Shona Spirit (1995). Music of the World B000003IT0
Chiwoniso. Chembere dze Musango. Timeless (2004). Metro studios B0061QPLM4
Chiwoniso. Rebel Woman. Timeless (2004). Metro studios B0061QPLM4
Andy Brown. Nhasi Takura. Tales of the Mbira: Ancient and Modern (2008). ADA Global B0001W30MW
Chiwoniso. Vano Vano Gwara. Timeless (2004). Metro studios B0061QPLM4
Chiwoniso. Pamuromo. Rebel Woman (2008). Cumbancha B0014GFHZW
Chiwoniso. Mai. Tales of the Mbira: Ancient and Modern (2008). ADA Global. B0001W30MW
Producer: