World Minerals
New CDs including Kareyce Fotso, Joyce Moreno, Dobet Gnahoré, Susheela Raman.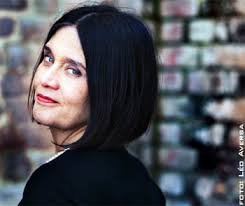 Kareyce Fotso                                Joyce Moreno 
Recent releases of artists with various musical backgrounds. We start with the album Mokte by singer Kareyce Fotso from Cameroon. Followed by the album Tudo, by bossa nova singer Joyce Moreno from Brazil.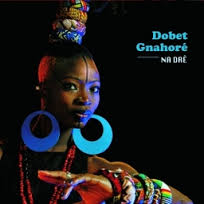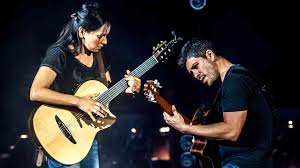 Dobet Gnahoré                        Rodrigo y Gabriela
After this we return to Africa with the album Na Drê by singer Dobet Gnahoré from Ivory Coast. Then it is time for 9 Dead Alive, an album by two musclemen on acoustic guitar: Mexican guitar duo Rodrigo y Gabriela. Afterwards we will change from continent again, but we retain the Latin temperament via de Catalan mestizo band La Troba Kung-Fú.
This Spanish band gives a cheerful party on their latest album Santalegria. There is also plenty musical entertainment on the album Fazendo as Pazes com o Swing by Brazilian samba band Orquestra Imperial. At the end of the programme we hear dreamy subtle jazz by German Afghan singer Simin Tander, from her album Where water Travels Home.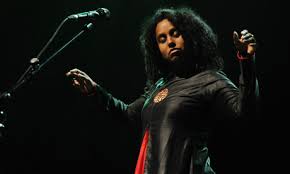 Susheela Raman
The final cord in this broadcast is for British Indian singer Susheela Raman who produces songs with lovely Indian contours on her new album Queen Between.
During the introductory explanation:
Title: Sunday Neurosis
Performer: Rodrigo y Gabriela
Album: 9 Dead Alive
Label and Year: ATO Records, 2014
Title: Youmbata
Performer: Kareyce Fotso
Album: Mokte
Label and Year: 2014
Title: Tiwassa
Performer: Kareyce Fotso
Album: Mokte
Label and Year: 2014
Title: Puro Ouro
Performer:  Joyce Moreno
Album: Tudo
Label and Year: Far Out, 2014
Title: Tudo
Performer:  Joyce Moreno
Album: Tudo
Label and Year: Far Out, 2014
Title: Tania
Performer: Dobet Gnahoré
Album: Na Drê
Label and Year: Contre Jour, 2014
Title: Zina
Performer: Dobet Gnahoré
Album: Na Drê
Label and Year: Contre Jour, 2014
Title: Sunday Neurosis
Performer: Rodrigo y Gabriela
Album: 9 Dead Alive
Label and Year: ATO Records, 2014
Title: Misty Roses
Performer: Rodrigo y Gabriela
Album: 9 Dead Alive
Label and Year: ATO Records, 2014
Title: El Joglar
Performer: La Troba Kung-Fú
Album: Santelegria
Label and Year: Chesapik, 2013
Title: Xocolata Bona
Performer: La Troba Kung-Fú
Album: Santelegria
Label and Year: Chesapik, 2013
Title: Tamancas do Cateretê
Performer: Orquestra Imperial
Album: Fazendo As Pazes Com O Swing
Label and Year: Mais Um, 2014
Title: Alcaçuz
Performer: Orquestra Imperial
Album: Fazendo As Pazes Com O Swing
Label and Year: Mais Um, 2014
Title: De Kor Arman
Performer: Simin Tander
Album: Where Water Travels Home
Label and Year: Jazzhaus Records, 2014
Title: La Chanson Des Vieux Amants
Performer: Simin Tander
Album: Where Water Travels Home
Label and Year: Jazzhaus Records, 2014
Title: Sajana
Performer: Susheela raman
Album: Queen Between
Label and Year: World Village, 2014
Producer: