World Minerals
World music, compiled by Pieter de Rooij and Carolien Cleiren.
The South African singer-songwriter Bongeziwe Mabandla from the Eastern Cape sings in Xhosa, a click language. He moved to Johannesburg and became a musician. A good choice. He won a South African Music Award with his second album Mangaliso (the Xhosa word for miracle). In the meantime, Bongeziwe Mabandla has become the new representative of Afro folk
His music is original and contemporary, has a happy sound and is influenced by African artists like Jabu Khanyile, Bongo Maffin and Busi Mhlongo.
He will give two concerts in the Netherlands: on 4 April in venue Luxor Live in Arnhem and on 7 April in Paradiso in Amsterdam.
1. Jekeleza, Bongeziwe Mabandla (03:36)
2. Zange, Bongeziwe Mabandla (04:02)
Bongosiwe Mabandla.
We'll stick to South Africa for a while. Bongeziwe Mabandla was influenced by singer Jabu Khanyile. Jabu, who was born in Soweto on 28 February 1957, started his musical career as a drummer in the band Bayette, a band that combined Afro-jazz and reggae. Bayete split up in 1992, and Khanyile started a successful solo career. He performed with Youssou N'Dour, Angelique Kidjo and Papa Wemba. He died in 2006.
1.. Wankolota, Jabu Khanyile, (05:48)
2. Sboshwa, Jabu Khanyile (05:19)
CD. Wankolota, Jabu Khanyile (2005) South Africa Gallo Records GWVCD 47.
The band Polifonic System comes from the South of France. Their CD Totem Simic especially focuses on vocal music originated in the South of France. Songs from Occitania are originally in one voice, but Polifonic System made arrangements in several voices that are accompanied with rhythms, and also flute, string instruments and bagpipes. Like many contemporary French music and folk music, these songs also have a lot of humour.
1. Ma'Mi Faguètz Pas, Polifonic System (04:32)
2. La Pastora. Polifonic System (05:24)
3. Ieu Soi Amat (04:50)
CD. Polifonic System, Totem Sismic, (2019) Buda 860329, Xango Music Distribution.
Regard Persan is a trio including Saeed Kamjoo (kamanche), Pooria Pournazeri (tanbur) and Ziya Tabassian (percussion). They are all three from Iran, but are currently living in Montreal, Canada. Regard Persan was formed after a magical concert during the "Garage Concerts" series in Montreal in 2013. Since then, they have performed in Canada, Europe and China. They recently released the CD Invisible
1.  Winter in Quebec, Pooria Pournazeri, Regard Persan (03:59)
2. Eternal Love, Saeed Kamjoo, Regard Persian (04:04)
3. Ocean of Dreams, Pooria Pournazeri, Regard Persian (05:37)
CD. Regard Persan, Invisible, (2019) Conseil des Arts de Canada, Xango Music Distribution.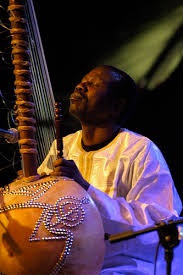 3 MA consists of three musicians, all of them virtuoso players of string instruments. They come from countries which names start with Ma … (in Dutch, that is). Driss El Maloumi from Morocco, plays the oud, Rajery from Madagascar plays the valiha (African zither) and Ballaké Sissoko from Mali plays the kora. They decided to embark on a musical expedition together, and wanted to create a unique fusion by fusing their music styles.
On 21 March 2020, 3 MA will perform at the Bimhuis in Amsterdam and the Concertzender will make live recordings there. . See info:
1. Mariam, 3MA (05:47)
2. Jiharka, (04:26)
CD. 3MA, Anarouz, (2017), Mad Minute Music, Xango Music Distribution
Produced by: