20th century opera explained: Life with an Idiot, by Alfred Schnittke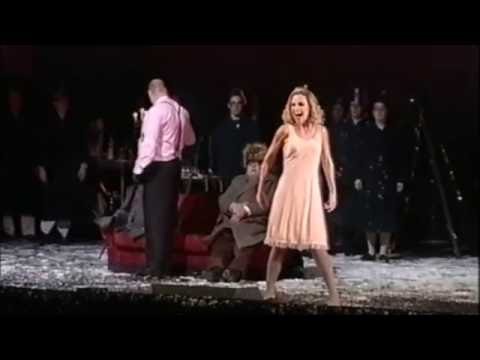 It can be done: a recent Russian opera, premiering in Amsterdam. We're talking about 'Life with an Idiot' by Alfred Schnittke. The opera premiered on 13th April 1992 in the Muziektheater Amsterdam. The story is an allegory about Sovjet repression, to a libretto by the Russian writer and essayist Viktor Jerofejev. Schnittke had worked with him before. The première was described as 'a fusing of contemporary Russian talent, comparable with what Diaghilev achieved 75 years ago with his Ballets Russes'.
Nightmarish
A summary of the story : The central character is required as a punishment (for what is never clear!) to take and idiot into his house. He chooses Vova, who looks very distinguished but is not very communcative, as his madhouse warder had predicted. At first Vova behaves perfectly, but after a while instances of gluttony start, the library (including the Proust book so beloved of the wife ) gets chopped up and faeces are smeared on wallpaper. After the idiot then jumps into bed with the wife (who gets pregnant and has an abortion) the tables are turned. Finally Vova and the central figure become lovers, Vova beheads the wife with garden shears, leaves the scene untainted and the central figure winds up in the madhouse.
An absurd plot, but for Russians pure realism. That's the way it was for many years in the Soviet Union and even perestrojka and what followed that didn't change that. So this is in fact an allegory about Russian society.
Recommended recording: Alfred Schnittke- Life with an Idiot- world première- Vokaal Ensemble & Rotterdams Filharmonisch orkest conducted by Mstislav Rostropovich with among others Dale Duesing (ik), Teresa Ringholz (wife) and Howard Haskin (Vova)- 1992 Sony Classical. (also to be broadcast during 'opera in the 20th century: from 1900 to date' on Tuesday 10th December 2019, 17.00).