3×3 Jazz Standards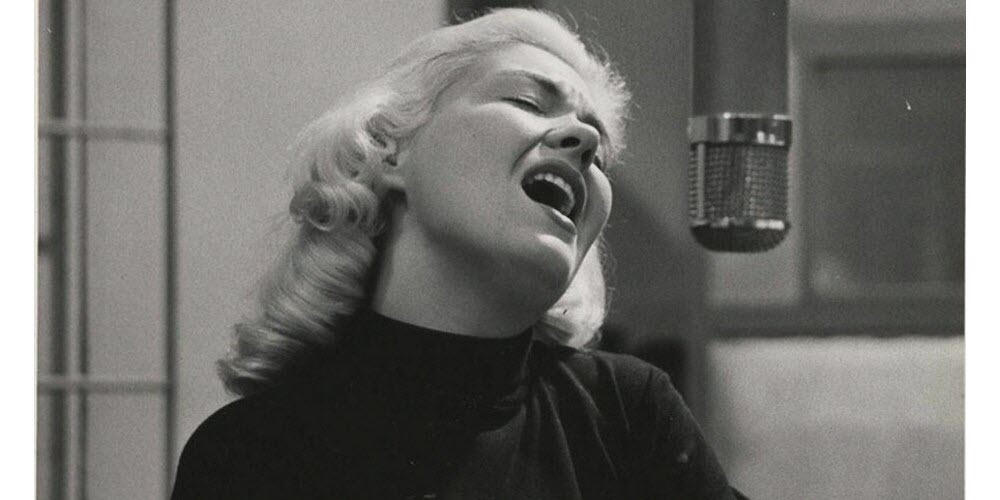 Saturday 12th November 2022, 15:00 – Three of a Kind. The selection starts with a studio recording from 1954 and finishes in 2001 with a live performance. The musicians also are from a wide range – from singer Helen Merrill (photo) to Tony Overwater. And the pieces … from a slow torch song to an Oleo where sparks fly
Born To Be Blue
"When I met you
The world was bright and sunny
When you left the curtain fell…"
The standard Born To Be Blue was written by Mel Tormé and Bob Wells. Vocalist Helen Merrill interpreted this gripping torch song in 1954 on her debut album, in the good company of arranger Quincy Jones and trumpeter Clifford Brown.
10 years later Chet Baker comes with a vocal version. Pianist Bobby Scott produces an amazing number of notes in this slow piece. But exactly the right ones! And very bluesy. The third man of the trio is guitarist Kenny Burrell. He creates a relaxed, rhythmically supporting set of chords. The bass also helps on the long strings. No drums. The sound director should be punished; the swimming bath acoustics are terrible….
Guitarist Wes Montgomery played an instrumental version. In 1962 he played in Berkeley (Cal). On the live album the accompaniment is from the Wynton Kelly trio, with Paul Chambers bass and Jimmy Cobb on drums – a trio well known from its collaboration with Miles Davis. Montgomery takes plenty of time for his atmospheric and beautifully constructed solo.
The album, Full House (1962), on which tenor Johnnie Griffin plays a role, is of very high quality. The enthusiasm of the public adds to the experience.
Oleo
Oleo was in the 50's a popular margarine brand in the States. However jazz lovers associate the name directly with the piece by Sonny Rollins in 1954. This standard was recorded by Miles Davis no less than five times. Form and the chord scheme are traditional, but the melody is rhythmic-metrically very sophisticated.
Pianist/composer Horace Tapscott (1934-1999) is not well-known here despite his substantial discography. In 1997 he recorded Oleo , in a trio ensemble. He definitely had his own style. Getting to know him will affect everyone. So listen!
Much easier to follow is the performance by the Miles Davis Quintet, with Coltrane on tenor (1956).
Guitarist Pat Martino closes this part, with a live recording from 2001 from Yoshi's (Oakland). With Joey DeFrancesco on organ and Billy Hart on drums. An unusual intro and rhythmic variations in the theme which will surprise you. Great organ sound from DeFrancesco.

Bohemia After Dark
This piece by Oscar Pettiford is performed by the Diamond Five, Ray Anderson and Tony Overwater.
Album information can be found in the Guide.
Three of a Kind is a programme by Bert Broere.