African music: Mariama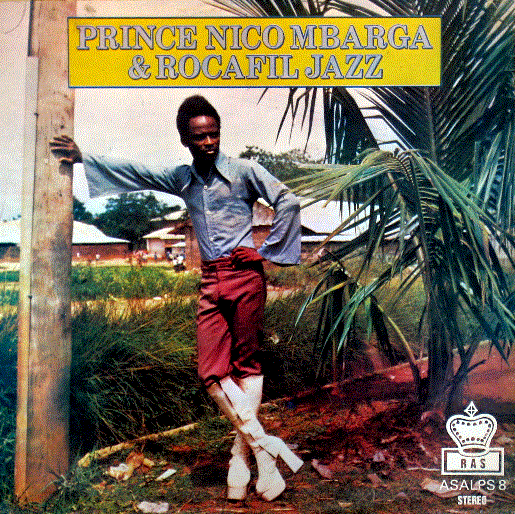 Every third Friday of the month between 20.00 and 21.00, you can listen to African music compiled by expert Kees Schuil. Time for a chat!
Radio Rabat
Throughout my childhood, classical music was the only music I knew: Mozart, Telemann and Bach especially. I hated the pop music of those days, until The Beatles came along. However, I was able to tune in to radio Rabat at night and really loved the Arab music that was played there.
Later in life, I got to know other music, including African music. In the late 1960s, African dance groups regularly performed in Dutch theatres; a feast for eyes and ears! Around that time, I also decided not to take a job in the Netherlands, but to go abroad. I picked Africa because of my preference for African music and dance and managed to get a job as a science teacher in Ghana. I took along my LPs, built my own speakers from tropical hardwood, bought even more music and, gradually, it became known that I had both a good music system and an extensive music collection.
Party time
Occasionally, I organised dance parties at my place, on my own or together with the teachers' team at the school where I worked. At a certain moment, other schools in Kpando, the town in the Volta Region where I worked, asked me to organise dance parties at their schools, and students asked me to come and play in their villages at Christmas and Easter. Oh yes! I had a few conditions: that I could bring some friends, that they would provide good drinks (palm wine, for example), and that we could dance with the students. Money was never involved. That would have only created obligations and I preferred to pick my own music.
After having taught for eight years in Ghana, I started teaching in Kpalime in Togo, a town that was only 70 kilometres from Kpando where I had taught before. I had met some of the teachers in Togo earlier at one of the parties in Ghana (at a sport tournament, for example) and several students had brothers who had been attending my classes in Ghana. And so, it didn't take long before I was livening up school staff parties with my music and started playing at parties in the surrounding villages and at people's homes. The popular music in Togo, however, differed from that in Ghana. In Togo, salsa music called 'Pacheco' was popular and, of course, so was the Soukous from several African countries. You could buy this kind of music in Lome or, even better, in Cotonou in Benin. Music played by the orchestras from Togo and Benin was also popular. In both Togo and Ghana, people also danced to Surinam music.
But what is 'African music', actually?
I would define it as all music originated from Africa (south of the Sahara). That includes, of course, the traditional African music played on drums, bells and other traditional instruments such as xylophones (balafons), harp lutes (koras) and flutes. And then there are the songs, a capella, or accompanied by either drums, bells and clapping, or electric guitars, a drum set and an organ or synthesizer. African church music and songs should also be included.
For my programme Mariama, I pick mostly t African party music, which was often played by dance bands that performed in the city's venues that had some kind of stage and where there were some chairs and tables. You bought a ticket, sat down at one of the tables together with your friends, ready to start dancing.
Francophone and anglophone
There is a difference between French-speaking and English-speaking countries, especially in West Africa. In francophone countries people love 'Pacheco' (salsa music), in Ghana and Nigeria they don't. Congo music (soukous) is also more popular in francophone countries than in anglophone countries. In countries like Kenya and Botswana, however, this music style is appreciated and produced. A story of its own is the music from South Benin, South Togo and the southern part of the Volta region in Ghana. The unique rhythms and way of singing ensures that this music particularly loved in its own region. Poly-Rythmo from Benin became also well-known and popular in Europe as Afrofunk. Nigeria has various music styles. The Afrofunk (or Afrobeat) by Fela Kuti and his sons is well-known, and their style has been followed by many Ghanaian bands. But Nigeria is also known for Juju music which actually has nothing to do with juju which is the word for witchcraft or voodoo. It is the characteristic music of the Yoruba people, with singer King Sunny Ade being its most famous representative. Finally, we have the Nigerian Highlife that strongly resembles both the Ghanaian Highlife and the Igbo Highlife by the famous singer Prince Nico Mbarga.
Who should everybody know?
Prince Nico Mbarga recorded many songs which have become popular all over the world, including 'Sweet Mother', a song of which more recordings have been made than any Beatles song. So, this is a name to remember. Although he never really scored a hit, Franco from Congo-Kinshasa also produced many EPs and more than 100 LPs. Of course, everybody knows Youssou N'Dour from Senegal and Salif Keita from Mali. The final name you should know is Miriam Makeba from South Africa. Unfortunately, she has become more and more influenced by American music styles.
Which role does music play in Africa?
In all the African countries I know and get my music from, music plays a very important role. Both traditional music and 'electric' bands play a key role in entertainment. Traditional music and dance are part of all kinds of festivals and ceremonies, including funerals and weddings. In most African churches, singing songs is a very important part of the service, but in some churches they also play music just so that they can dance.