Ana-Maria Avram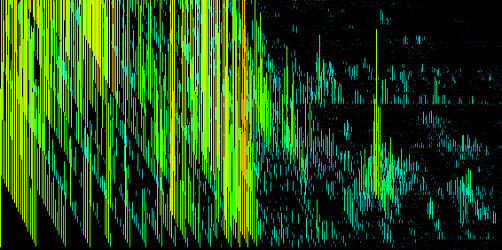 On Wednesday 23rd March at 23:00 in the programme Electronic Frequencies you can hear the first part of the new series The Game Changers, with in the first episode a portrait of Ana-Maria Avram.
Fear and bravery
"An act of bravery to break out of tonality's coffin earlier in this century. The rule-inventing and rule-breaking of that era unblocked new musical thoughts. Today, electronics require similar courage to approach and offer the same liberation. Atonal-ism also offered a distraction; suddenly, in order to be a composer one had to study mathematics. An equivalent distraction value comes today out of using electronics, particular live electronics. Fear and distraction are an important part of electronic music today. Perhaps in the future the computer will be easy to configure and use, and as reliable as a piano is now.
If this happens, composers and performers will seek new sources of uncertainty."
(Puckette and Settl, 1993)
Roland Kuit in search for electronic/electroacoustic composers with the same bravery, rule-breaking and rule-inventing ways to create new musical fundamentals for the generations to come.
Click here for full programme information about Electronic Frequencies on Wednesday 23rd March 2016 at 23:00 .