Atri N'Asouf in Concertzender Live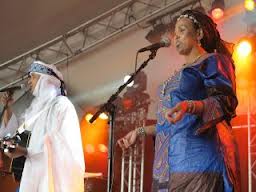 The desert blues of Atri N'Assouf can be heard in Concertzender Live on Friday 28 February 17:00 – 18:00. The concert was recorded in Rasa, Utrecht on 24 November 2012.
Atri N'Assouf translates as 'Star of the Desert'. This tuareg group comes from the northern Sahara and their music is characterised by a repetitive, almost hypnotic groove combining bass guitar, percussion, acoustic guitar and vocals.
For more information see our guide
This broadcast will be repeated on Saturday 8 March from 22:00 – 23:00.