Black Bazar live at the Africa Festival Hertme 2014
Black Bazar is a collective of musicians of all ages that includes the singer Ballou Canta and the legendary guitarist Popolipo Beniko. They can be heard in Concertzender Live on Friday 26 September from 17:00 to 18:00 CET.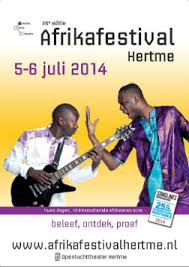 The 26th edition of the Africa Festival in Hertme took place in July 2014. African music attracts a large and enthousiastic public in the Netherlands and the attendance at this years festival was again high. The open-air theatre in which Black Bazar performed was packed.

The members of the band are:
Ballou Canta, vocals, Demingongo Litemo, vocals
Popolipo Beniko Zero Faute, lead guitar
Caien Madoka, rhythm guitar,
Michel Lumana, bass guitar
Jean Baptiste Gdaboé, drums
Jimmy Kusekimina, percussion and Hawa Sako, dance.
For more information go to the programme guide