Catrin Finch and Seckou Keita live in concert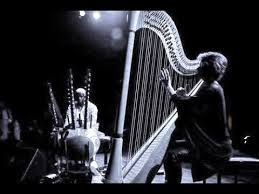 Concertzender Live on Friday 23 October at 20:00 CET features an unusual duo: the classically trained harpist Catrin Finch from Wales and the kora player Seckou Keita from Senegal.
The concert was recorded in the Stadsschouwburg in Nijmegen on 31 March 2015.
The cooperation between the two musicians began in March 2012 when Seckou Keita had to replace Toumani Diabaté who was unable to fulfil a serie of concerts dates with Catrin Finch because of a military coup in Mali. The experience of playing together was so postive that they subsequently recorded the album Clychau Dibon together in 2013. The album was chosen as the best album of that year by Songlines.
The contrast between the two musicians could not be greater. Catrin has a classical and academic background and studied at the Royal Academy of Music whereas Seckou is a member of a centuries-old musical family from Casamance in Southern Senegal who plays by ear and from memory and cannot read sheet music. Nevertheless, there was an immediate musical match and they have gone on to develop a unique style of music together.
For more information see our programme guide