CD of the week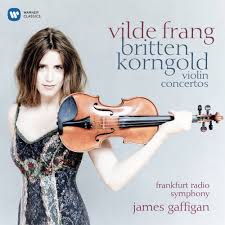 The CD of the week features Violin concertos by Benjamin Britten and Erich Wolfgang Korngold.
Vilde Frang, violin. Frankfurt Radio Symphony conducted by James Gaffigan.
Korngold and Britten
For a long time, Frang has dreamt of the opportunity to record the Violin concerto's by Korngold and Britten, two of her favourite pieces. Both works were written in the United States, during the Second World War, but are very different pieces of music. Britten's Violin concerto has a puur and almost supernatural sound, whereas the Violin concerto by Korngold is much fuller and richer.
 Click here to listen to the CD of the week
[Warner Classics 0825646009213]