CD of the week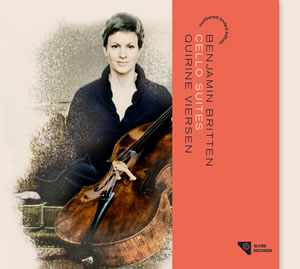 Benjamin Britten. Cello Suites. Quirine Viersen, cello.
[Globe GLO 5259]
Cellosuites: nr. 1, opus 72 – nr. 2, opus 80 – nr. 3, opus 87.
The three cello suites by Benjamin Britten 1913-1976) have an interesting history. The story starts in September 1960 in the Royal Festival Hall at the London premiere of the Second cello concert by Dmitri Sjostakovitsj.  Sjostakovitsj was present and sitting next to him was Britten, who had been personally invited to attend by the composer. Sjostakovitsj  and Britten had not met before but the invitation makes it clear that Sjostakovitsj was an admirer of Britten's compositions. After the performance, Sjostakovitsj took Britten to meet Mstslav Rostropovitsj (Slava), the cellist who has performed that evening and to whom the Cello concert is dedicated. The atmosphere was very friendly, there was an immediate rapport between Slava and Britten and Britten left with a new commission directly 'from the horse's mouth'. He started composing his Cello sonata almost immediately and it was recorded a year later with Slava. The friendship also led to more compositions, the Cello Symphony and the three Cello suites, the First in 1964, the Second in 1967 and the Third in 1971. All three were premiered by Slava at the reknowned  Aldeburgh Festival, an event that was led by Britten, in 1965, 1967 en 1971 respectively. In addition, Britten also wrote new cadenzas for  Haydns Cello concert in C for Slava.