CD of the Week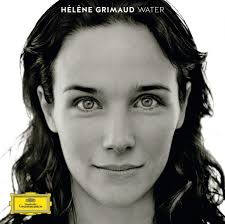 This week it's CD 'Water' by pianist Hélène Grimaud.
Albéniz: Almeria (uit Iberia, boek 2)
Berio: Six Encores: Wasserklavier
Debussy: Préludes – Boek 1: No. 10, La cathédrale engloutie
Fauré: Barcarolle No. 5 in fis Op. 66
Janacek: In the Mists
Liszt: Les jeux d'eaux à la Villa d'Este (Années de pèlerinage III, S. 163 No. 4)
Ravel: Jeux d'eau
Sawhney: Water – 7 Transitions
Takemitsu: Rain Tree Sketch II
Hélène Grimaud, piano
Nitin Sawhney: keyboard, guitar, electronics.
1 mei 2016, 09:00-10:00
[DGG 4793426]