Charlie ' Bird ' Parker 100th anniversary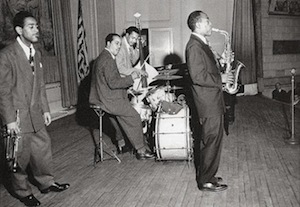 On Saturday 29th August we're honouring the altosaxophonist Charlie Parker who was born 100 years ago. Parker was a musical genius who completely revolutionised jazz.
Together with Dizzy Gillespie, Thelonious Monk and Bud Powell he was regarded as the inventor of bebop. Parker had a short and turbulent life characterised by alcohol and drug use.
Parker was born in Kansas City on 29th August 1920. That is exactly 100 years ago. He died on 12th March 1955 at the age of 34 .
Saturday lots of coverage of this phenomenon. An overview:
14.00: Bijzondere live-opnamen, a programme by Jaap van de Klomp
16.00: Een tribute from programmemaker Eric Ineke
18.00: 9 pianisten die samenwerkten met Charlie Parker, a programme by Ineke Heijliger
19.00: Bird en de B3, a programme by François van de Linde
Last Saturday 22nd August we broadcast a Parker special in Big Bands, you can hear it here