Composer of the month: Willem Pijper
De Concertzender begins 2019 close to home: in Utrecht. In January 2019 it is the 40th anniversary of the opening of the Utrecht Muziekcentrum Vredenburg .This event gave an enormous stimulus to the musical life of Utrecht. And so this month focus on the composer who played this stimulating role between the Wars: Willem Pijper. He studied and composed in Utrecht, wrote for many newspapers and magazines and had a large group of students who became important figures after the Second World War in Dutch musical life . Pijper was a versatile man and many of his facets, even the lesser-known ones, will be illustrated. And because Pijpers' music so quickly won recognition it was very much in demand by the best musicians.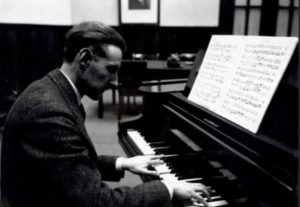 Listen: Tuesday 1st January 2019 from 18.00 to 19.00.
Included in the programme:
Sonate voor flute and piano (1925) played by Koos Verheul and Jan van der Meer
Pianosonata (1930) played by Ronald Brautigam.
Violin concerto (19390, played by Theo Olof and the Radio Filharmonisch Orkest led by Bernard Haitink
And Pijper's unfinished 5th String Quartet, played by the Gaudeamus quartet.