Concertzender tip – come and listen to the young star Anna Prohaska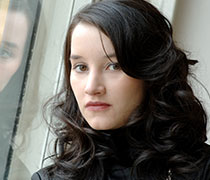 Anna Prohaska is performing in the Grote Zaal of the Concertgebouw in Amsterdam on Tuesday 27 September at 20:15. She'll be singing the two legendary rulers Dido and Cleopatra, accompanied by the music ensemble Il Giardino Armonico. The Concertzender will be recording the concert for broadcast at a later date.
The German soprano Anna Prohaska has built up a big reputation in Germany as soloist at the Staatsoper in Berlin. She's already sung many tragic heroine roles. She'll also be doing that during the concert 'Dido en Cleopatra' in the Grote Zaal in Het Concertgebouw in Amsterdam.
Listeners to the Concertzender have the chance to win tickets for this concert. Keep watching this news items for more details!