Concours de la Chanson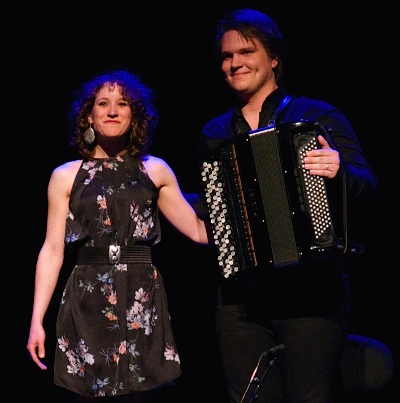 Sterre Konijn was the winner of the 30th edition of the Concours de la Chanson Alliance Française. Performance from the final can be heard in two programmes on 17 and 24 May at 21:00
Sterre Konijn with her accordionist Yvo Staudt (photo: Anton van Halderen).
The final took place in Theater Diligentia in Den Haag on Sunday 13 April 2014 and was recorded by the Concertzender.
The prize that was won by Konijn, the Prix GassanDiamant, was awarded by a jury consisting of Tonny Eyk, Bart Van Loo, Hans Cornelissen and Frances Gramende who was also responsible for organising the event. The Liesbeth Listprijs Jeunes Artistes was won by Catalijne Janssen, the TV5Monde Publieksprijs went to Daan Hofman and the Prix Citroën de la Créativité to Borédas Dionys.
Broadcasts: