Debademba in concert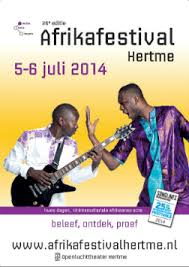 The live concert by Debademda during the Africa festival 2014 in Hertme is broadcast on Friday 24 October from 17:00 – 18:00 CET. It was one of the highlights of the festival.
The concerts during the Saturday of the festival were recorded by our colleagues from Radio 6. The final concert of the day was one of the highlights of the festival, the performance by Debademba, a group from Burkina Faso/Mali.
You will immediately notice the lightning-fast guitar playing by Abdoulaye Traoré, who also plays mandole and banjo, and the golden voice of Mahamed Diaby who invokes the urgency and fire of Salif Keita.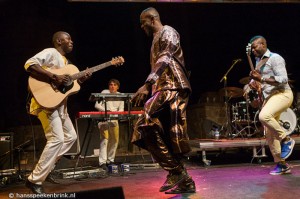 Diaby is the son of the griot Coumba Kouyaté from the Ivory Coast and moved from Bamako to Paris in 2008 after winning the Prix de Jeunesse, a competition that is sponsored by Oumou Sangaré. Here he met the somewhat older guitarist Abdoulaye Traoré and they immediately discovered a shared musical vision. Together they have developed a personal music style that combines Wassoulou rhythms with harmonies from the Ivory Coast and Arab-Andalucian influences.
This programme is repeated on Saturday 1 November from 22:00 – 23:00 CET.
For more information see out programme guide