DIG d'DIZ – Boy Edgar – John Engels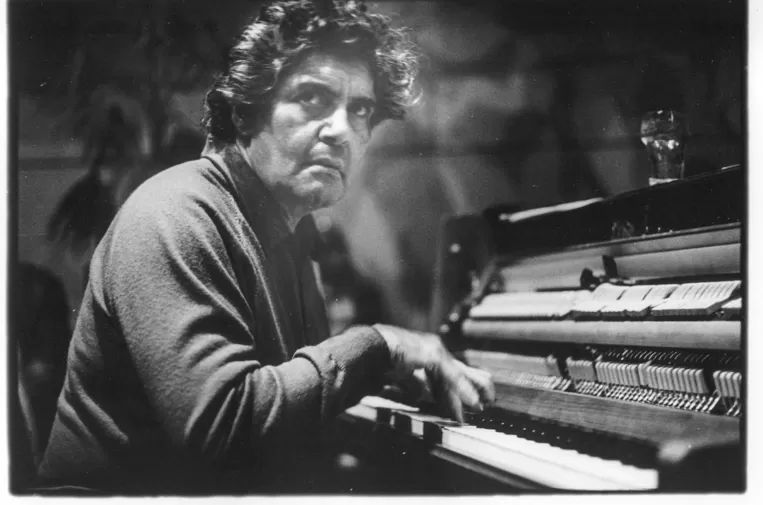 Saturday 3rd December 2022, 23:00 – The Art of the Improvisers. Together with the Modrian Quartet the trio DIG d'DIZ weaves an abstract and colourful music tapestry. Then Boy Edgar's ( photo ) powermachine shakes things up. And – be warned ! -, the bop-drenched trio Engels-Teepe-Herman wil put you in a good mood.
DIG d'DIZ Meets the Mondriaan String Quartet (1997)
Baritone saxophonist Jan Menu, guitarist Maarten van der Grinten and bass Jan Voogd have been a trio for more than 20 years. "Three is cheaper: the drummer is sick." Leaving out a drummer is a positive choice – it creates possibilities.
There are many, consciously, percussion-free trios in Jazz. For instance Oscar Peterson (piano, guitar, bass) and pianist Pim Jacobs with the same lineup. The Mondriaan Quartet specialises in 20th century and contemporary music. Among others it works together with the Willem Breuker Kollektief.
The music of this temporary septet is 'abstract', not bound by traditional, predictable forms and developments. A mix of composed and improvised pieces. The rich rhythm is not always based on a metre or pulse. Sometimes a jazz light gets lit. A great variety of dynamics and textures.
The piece titles are definitely not abstract: "Ontaarde Moeders", "Paashaas", "Baren en Zogen". Let yourself be carried along in this – for many – unknown territory and you'll have an experience !
Boy's Big Band
In the 60's around the combo The Diamond Five a professional jazz orchestra was started. The mix of well known jazz soloists and studio musicians led by the charismatic Boy Edgar quickly reached great heights. Its music was recorded on two albums : Now's The Time! and Finch Eye. In the wind section is Theo Loevendie – one of the providers of pieces and arrangements. His Finch Eye, dedicated to writer/poet Simon Vinkenoog, is a mozaic of strong  rhythmic sound walls, quiet moments in free tempo, and swinging solos.
In between the two 'experimental' Loevendie pieces, with Edgar's Plain Blues we're on more familiar territory. Enjoy fine solos and tension lines within blues and arranger styles.
(Want to read a good book? Boy Edgar – Het dubbelleven van een alleskunner by Marie-Claire Melzer and Marieke Klomp describes the life of doctor, neuroscientist, trumpeter, composer and bandleader Edgar. Publisher Cossee 2015. A real page turner.)
Engels-Teepe-Herman
A trio without a chord instrument is also possible: drums, bass, alto sax. Note the hierarchy – the éminence grise, drummer John Engels, is upfront. Also on the cover of the album When Will The Blues Leave (1920). A recording of a concert in the Bimhuis, without public because of the lockdown.
Engels, bass Joris Teepe and alto Benjamin Herman turn it into a party. Mostly happy swinging pieces, such as the title piece by Ornette Coleman. The lyrical The Peacocks, by pianist Jimmy Rowles, has a different mood. The bass and drummer support Herman's meditative solo playing with their subtle accompaniment.
There's an overview of the programme in the Guide.
The Art of the Improvisers – Bert Broere