Door de Mazen van het Net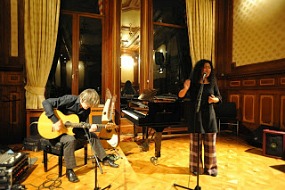 Programme maker Ton Maas welcomes the group Boi Akih on Sunday 1 December (12.00).
Boi Akih is a jazz/world music trio based in Amsterdam, The Netherlands composed of Monica Akihary on vocals, Niels Brouwer on guitar and prepared guitar, and Sandip Bhattachraya on tabla and percussion.The group fuses musical traditions from the Molucca Islands, Bali, Dutch (European) jazz, improvised music, classical Indian music and traditional African music. Initially started as a duo, the music is written by Brouwer and the lyrics are written by Brouwer and Akihary.