Douwe Bob and Shin Sihan in the Soundcafé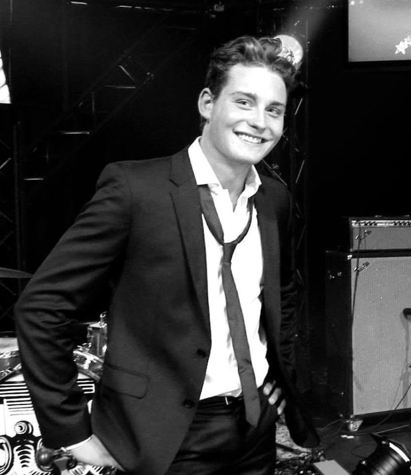 The first edition of the Soundcafé featuring Douwe Bob and Shin Sihan will be broadcast on Tuesday 25 February from 18.00 until 19.00. The Soundcafé is a monthly talk show about classical music in today's world. It is also possible to be present at the recording of the the program.
Hosts Louis Gauthier and Gerhardt will talk to singer Douwe Bob, winner of the first edition of 'the best singer-songwriter of the Netherlands'.
He tells us how his style has been influenced by classical composers and why strings were a must in his single Stone into the River. Violin talent Shin Sihan will play his favourite violin compositions and joins Douwe Bob on stage.
Subsequently conductor Jan-Willem de Vriend tells us the true story behind Für Elise. Popjournalist Jean Paul Heck has a terrific story about the connection between Beethoven, Kiss and Billy Joel. And someone goes to the Koninklijk Concertgebouw for the first time is his life.
Classical Music in today's world
The Soundcafé is a talk show and radio show, in which presenters Louis Gauthier (32) en Gerhardt (34) will guide visitors and radio listeners through the world of classical music. They do so by means of a light-hearted program in which interviews, live music, spoken columns and reports alternate at a fast pace.
Classical music is the foundation, but pop, jazz and rock influenced by classical music will be dealt with as well. The café is situated in artists association Arti et Amicitiae in Amsterdam and the recordings of the broadcasts can be visited for free. The recordings are broadcast via the Concertzender one week after they have been recorded, on Tuesdays from 18.00 until 19.00. In addition, the Concertgebouw, the Residentieorkest and the Nederlands Symfonieorkest will distribute a podcast via their websites.
About the makers
Louis Gauthier (1981) is a creative producer, composer and graphic designer. Hij composed music and designed artwork together with Gerrit Komrij, Jules Deelder, Spinvis and Frans Molenaar. Louis also works as an audio editor, reporter and programmer for Radio 1.
Gerhardt (1979) is an artist, composer and performing musician. He recorded a mini album with members of Triggerfinger, issued a well-received debut CD on V2 Records and performs with Beans & Fatback at Oerol, Lowlands and Zwarte Cross and elsewhere. Currently he is working on his third album and an accompanying theater performance.
Het Klankcafé ■ Arti et Amicitiae ■ Rokin 112, Amsterdam
Sunday 16 February, 16 March, 13 April, 11 May & 15 June 2014
doors open 15.30, start 16.00, end 17.00