Download the Concertzender radio app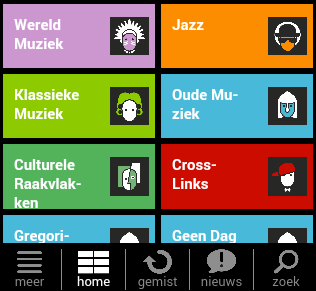 For some time we've had a Concertzender Radio-app, through which you can listen on the move. The app is easy to use and very complete: theme channels, broadcast Gemist, search function, news releases, programme guides. Everything within reach with a simple swipe.
Classical music, jazz, elektronic or world music, everything neatly organised and easy to find. That is the power of this app: no complications, large clear buttons and simple navigation.
You can download the apps in the App store or the Google Play store:
After the opening of the app you get to a screen with all the theme channels on the Concertzender. The app maintains your preferences and these reappear above when you revisit. At the festivals where we live stream via our site we'll add theme buttons to the app.
Choose 'gemist' in the menu and you can listen to recently broadcast programmes. Want to go further back? Via the search function the whole archive is open and you can listen to programmes as far back as 2007.
Happy with our app? Give it a high rating. That way you can ensure that the app comes to a higher position in the Radio category, which means more people will download it.
The app has been made financially possible by the Prins Bernhard Cultuurfonds. It is designed by Kimmic Concept & Design and built by Van der Linden Cultural Services.