Dr. Klangendum: radiophony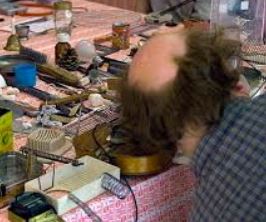 Dr. Henk Klangendum Bakker and Dr. Luks Klangendum Simonis have been building Dr. Klangendum since 2nd July 2013 with a group of colleagues. Indepedent sound art, radiophonic projects and other audio-non-visual misunderstandings. You could call it a series. But Dr. Klangendum is no standard format, because the doctors cannot abide routine, fixed formats and automatically going through lists.
There is continuity, too. There are regular colleagues such as Adam Bohman, Vincent Denieul, Sara Pinheiro and many others. Dr. Klangendum also works together with the Radia network, Radia FM And there are recurring subjects such as specials about sound artists, radiophonic sound games and running productions. In the last week of August 2019 the doctors will be presenting their 300th episode. On Sunday 15th September the
Dr. Klangendum doctors will be coming to the Concertzender studio in Utrecht and from there from 18:00 will infect the mixing table with a three hour long sound spectacle. Get ready for it!
The makers are Henk Klangendum Bakker and Lukas Klangendum Simonis, employers and employees of the WORM Studio te Rotterdam, from where they broadcast radio-programmes such as Radio Worm and the Hørspil Reeks (via VPRO's Café Sonore, recently beheaded by the guillotine of the Publieke Omroep) . De studio is still there, the activities continue, bu the Worm Studio has split itself off from WORM and continues as Stichting Klangendum. The cooperation with WORM does continue in the form of joint productions and the studio is still located in the WORM building.
Appointment
Dr. Klangendum live 15th September 2019 between 18.00 and 21.00.