Early Music schedule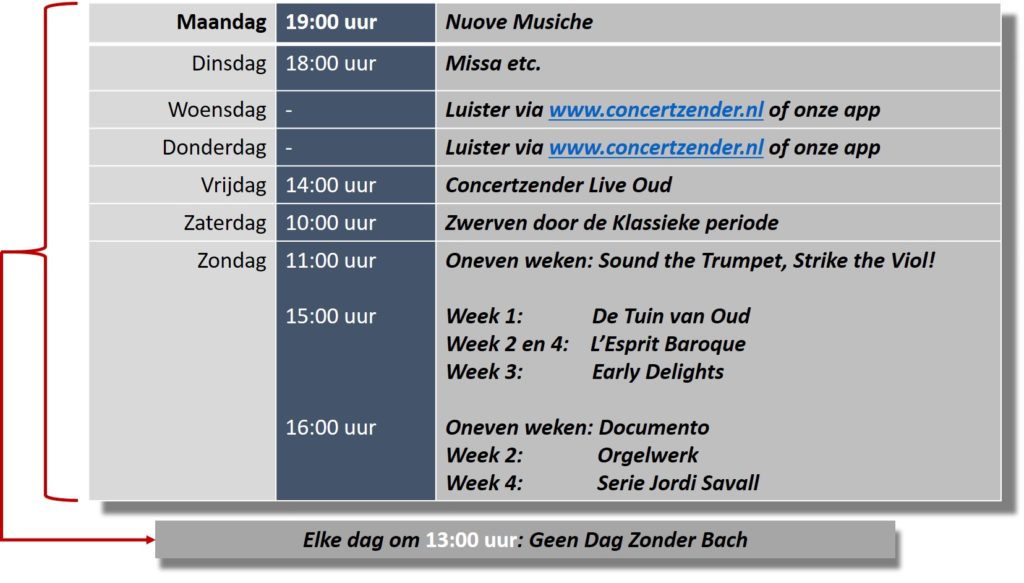 For many years you have been able to listen to music from the Middle Ages, the Renaissance and the Baroque on the Concertzender. There are a variety of programmes featuring well-known and less well-known musicians, surprising, sometimes educational and often reflecting current developments in the world of Early Music. In the past, Early Music could be heard on Monday evening, Thursday evening and Sunday afternoon with Bach ad Infinitum being broadcast every weekday at 13:00 CET.
This changes on Thursday 20 June 2019 when our new broadcasting schedule is introduced. The changes are listed below:
– On Monday Nuove Musiche moves from 18:00 CET to 19:00 CET.
– Documento, Organ works and Series Jordi Savall move to Sunday at 16:00 CET.
– Roaming the Renaissance/Baroque airs on Saturday morning at 10:00 CET, under the name Roaming the Classical Period.
– Concertzender Live Early Music moves to Friday afternoon at 14:00 CET.
– Sound the Trumpet, Strike the Viol! Stays on Sunday but moves to 11:00 CET.
– Missa etc. moves to Tuesday afternoon at 18:00 CET.
– The Early Garden, Early Delights and L'Esprit Baroque moves to Sunday at 15:00 CET.
Bach ad Infinitum continues to be broadcast every workday from 13:00 to 14:00 CET.