Enchantment and oppression in Face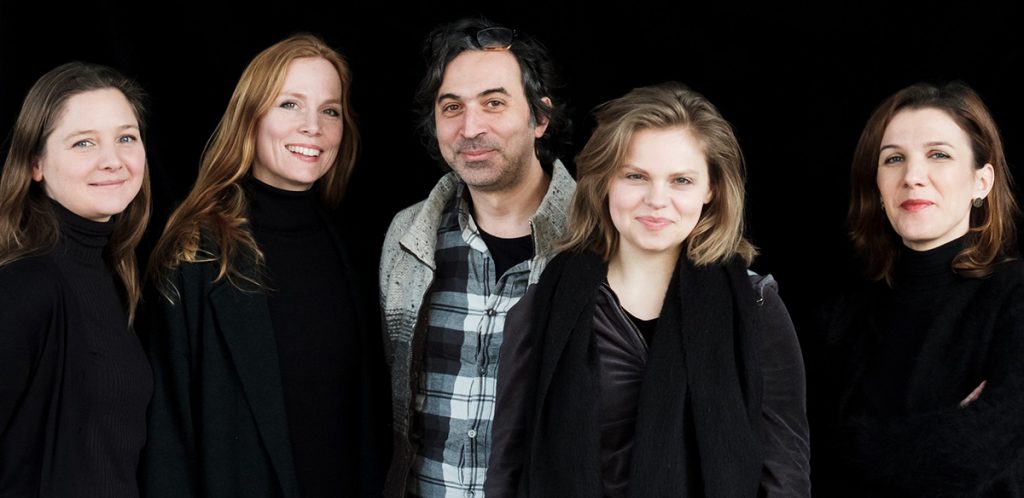 A report of a performance of the multimedia composition Face that took place at De Link in Tilburg. The Concertzender will be broadcasting a recording of this concert in Concertzender Live on Monday 19 October at 20:00 CET.
Corona measures or not, The Tilburg concert organization De Link opened its new season in style on Tuesday 29 September. The select audience were treated to an extraordinarily intense concert in the atmospheric Cenakel.
The program included the multimedia composition Face by the Dutch-Cypriot composer Yannis Kyriakides. Face was made in corporation with Johannes Schwartz en Maria Barnas and was performed by the Electra ensemble. Four strong women who descended for an hour into the world of digital facial expressions and facial recognition systems. Performances opportunities are sparse in corona time and ensembles therefore take the opportunity to make music on the cutting edge. The Electra ensemble also added a little extra.
It could almost make you paranoid. Faces and all the possible emotional facial expressions can now be digitally mapped by computers. This can de done purely for commercial purposes or as an extra tool in the social media jungle. Yannis Kyriakides is fascinated by the oppression emanating from digitised and completely pre-defined facial manipulations. The staging is extremely effective. Beautiful video images are projected both behind and in front of the ensemble. Unflattering, distorted portraits and facial scans of the four musicians are shown on a large screen behind the ensemble. The faces are distorted by computer glitches and have a penetrating effect, while the poetic text by Maria Barnas offers the audience some guidance in this detached, futuristic setting. There is also a smaller screen in front of the ensemble on which an endless stream of computer instructions and digital masks are displayed.
You might expect a cold and aloof performance. However, in Face, Kyriakides taps into an emotional musical layer which you don't often hear with him. It is melancholic, moving music that accompanies this modern and surprising face dance. Electra has completely appropriated Kyriakides' piece of music. The focus is on the vocals of Michaela Riener, whose graceful voice enlivens the text. Sometimes very expressive but more often calm and soulful. This poetic calmness can also be heard in pianist Saskia Lankhoorn, recorder player Susanna Borsch and violinist Diamanda La Berge Dramm. Kyriakides' music for Face is introverted, contemplative and permeated with an indefinable sense of oppression. Crystal clear electronic sinus tones and pulses whirl through the quadrophonic space, which only increases the magical atmosphere of the performance. A CD recording is planned.
Before then, the Concertzender will be broadcasting a recording of this live performance of Kyriakides' Face in Concertzender Live on Monday 19 October at 20:00 CET.
De Link has a lot more interesting concerts in their new season including a showing of the film Faust with music by Willem Breuker performed by Ensemble Klang (on Tuesday 13 October). De Link has also commissioned their first compositions. On Tuesday 27 October the Ives Ensemble will perform the world premières of these compiositions by the Canadian-British composer Cassandra Miller and the British composer Joanna Bailie.
For more information visit the website: www.delink.nl
Report written by programme maker Mark van de Voort.