Endangered animals on tour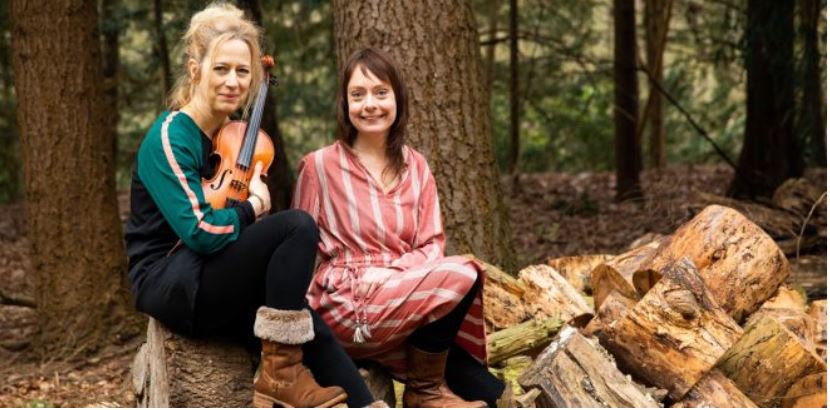 This summer, four aspiring young musicians will tour around the Netherlands (yes, we can!), presenting a contemporary musical take on a series of endangered animals. With Camille Saint-Saëns lurking somewhere in the background, Sophie de Rijk and Hilke Bressers talk about their initiative.
Sophie: I am a violinist, composer, and arranger; being first fiddle and artistic leader of Padavita Tango String Quart, I come up with and develop our own theatre concert programmes. I am also working as a freelance musician on several different projects.
Hilke: I have a lot of experience setting up innovative musical projects in which there almost always is a link between artistic and societal expression. I am also a singer, and I have been composing my own musical pieces for a few years. Carnaval der Bedreigde Dieren (Carnival of Endangered Species) will be my debut as a composer.
Sophie: Hilke and I met at the Practical Idealism project of Merlijn Twaalfhoven's The Turn Club. Artists from various genres were instructed to turn big, idealistic dreams into a practical plan. The loss of biodiversity turned out to be a big concern for both of us, and before long, Carnaval der Bedreigde Dieren was born.
Your line-up is very unusual. How did this come about?
Hilke: Being the initiators, Sophie and I first used our musical background as singer and violinist as a starting point, and we supplemented this with harp and cello. We did that because this allowed us to give a voice to the enormous diversity of the animal kingdom. We also wanted to challenge ourselves as creators to write for this unusual line-up.
Do you edit a lot of existing material, or does this line-up cause you to write your own work?
Sophie: We compose all music for this project ourselves; the pieces will be contemporary homages to endangered species. Obviously, Camille Saint-Saëns' Le Carnaval des Animaux is our starting point, but our collective will write the music.
How does the compositional process take place?
Sophie: Together with harpist Beate Loonstra and cellist Thomas van Geelen we make a collective of four creators; each one leads writing a few homages. These homages will be solos, duets, and ensemble pieces. Soon we will get together to exchange first drafts and develop them further. Together, we decide what animal goes with which song.
Hilke: Also, eight famous poets, like Hans Dorrestijn, Judith Herzberg, and Ingmar Heytze, will each write their own poem as a homage to an endangered species. Part of those poems will be put to music, and the others will be heard as a poem. The poets themselves will not be at the concerts; we will make audio and video recordings in which they will recite their poems. And those recordings will be heard at the performance.
Which animals did you choose? And why?
Hilke: We think it is important to not only give a voice to large mammals who are at the top of their food chain, like the polar bear or the jaguar but to give a voice to other endangered species, who are less visible but still play an essential part in keeping the earth healthy. That's why we wrote a homage to the worm and the saddle-backed bush cricket.
Sophie: We also choose to represent marine animals, like the loggerhead sea turtle and the seahorse, and represent birds like the quail and the nightingale. Diversity is our starting point.
What can we expect from your concerts? Will we hear some of Camille's work?
Hilke: We will perform in nature reserves in Doorn, Hengelo, Assen, and Vught during our summer tour, which is in August and September. We will take the audience on a walk where they encounter musical homages and poems in a surprising way, for example poems by a nightingale that comes flying down or a harp solo while you hear a jaguar growling in the bushes. And regarding Camille's work: I am trying to incorporate Aquarium's melody into the homage to the seahorse.
Sophie: We'll also work with amateur ensembles in every location; they will participate in creative workshops to write their own homage to a local endangered species. We are still looking for ensembles in all four regions, so if there are any readers who would love to be involved with their ensemble or choir, please contact us!
Will this be a one-time thing? Or do you want to pursue this further?
Sophie: With Carnaval der Bedreigde Dieren, we will be realising a long-cherished dream of combining my ideals and activism with my own artistic expressions. These times of COVID, in which many of my planned performances were cancelled, created enough spare time to shape this dream. I definitely think that I will keep looking for more ways to further shape this project.
Hilke: I don't think this project will end after this summer. The beauty of Carnaval der Bedreigde Dieren is that there is an incredible amount of possibilities to shape this project. One desire, for example, is to go on a theatre tour to standard concert halls and less standard concert halls in the '22/'23 season. As a creator and person in the broader sense, I feel like I should continue to commit to the climate.
Will you also be playing other people's repertoire?
Sophie: As a collective, we come from vastly different musical backgrounds; I mainly come from the world of tango with my string quartet Padavita. Beate loves, besides playing classical pieces, instant composing. Thomas is a cellist with the innovative North Sea String Quartet that mainly focuses on folk and jazz music. And Hilke's music is on the cusp of pop and classical music. Together we make an entire carnival!
…Do you want to tell us one final thing?
We very deliberately choose beauty and amazement to give the floor to indigenous endangered species and endangered species worldwide with this performance. There are too many depressing stories about the dire state of this world. With art, we hope to reach the audience differently, through the heart rather than through the mind.
Tour dates:
14 and 15 August – Landgoed 't Kluenven in Hengelo
21 and 22 August – Asserbos in collaboration with Het Drentse Landschap
28 and 29 August – Landgoed Zonheuvel in Doorn
4 and 5 September – Landgoed Bleijendijjk in Vught
There will be a morning and afternoon show on each of these dates.
Ticket sales will start in June via www.carnavalderbedreigdedieren.nl
Due to the coronavirus, the number of tickets available will be limited. Those who subscribe to the newsletter will be notified of the ticket sale first.