Farewell concert Emmy Verhey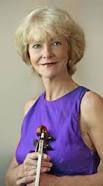 On Thursday 18th February between 20.00-22.00 uur we're broadcasting in Concertzender Live our own recording of the farewell concert that violinist Emmy Verhey gave on 27th November in Groningen.
During a tour at the end of 2015 she played works by Schubert (including the well-known Trout Quintet) and Dvorak. We recorded the concert in Groningen in the Martinikerk .