Five-part series on Oscar Peterson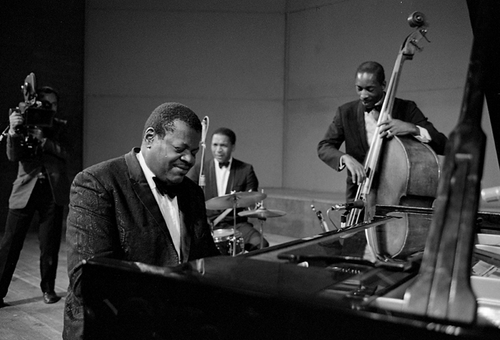 In our Jazz Piano programme we pay attention 5 times to Oscar Peterson, the legendary Canadian Jazz Pianist. Next broadcast will be at 21:00 hr on Tuesday November 19. Click here and listen to the first two broadcasts.
Listen now to:
Oscar Peterson lived from 1925 until 2007. His father taught him to play the trumpet and the piano when he was 5 years old, but after he suffered from tuberculosis he concentrated on the piano.
Undoubtedly Peterson is one of the most famous jazz musicians, who contributed a lot to the popularity of that music by his catching playing.
As far as his style is concerned one can put him in the late swing-period, where he was influenced by Teddy Wilson, Art Tatum and Nat King Cole. His brilliant technique and exceptionally swinging 'timing' were typical of him.
Oscar Peterson made his debut in 1949 with a performance in New York's Carnegie Hall, after which everything gained momentum for him. He was a versatile musician who recorded many albums. Among other things he played with diverse musicians as Louis Armstrong and Stan Getz and he constituted part of producer Norman Grant's 'Jazz at the Philharmonic'.
He accompanied famous singers like Ella Fitzgerald and Anita O'Day as well. He performed no less than 15 times at the North Sea Jazz Festival and received numerous important awards.
In 1993 he suffered a stroke, however he got over that. He died in 2007 of a liver disorder.
During the present series of five hours you can listen mainly to his trios with guitarist Herb Ellis and bass player Ray Brown among others, but there will be some rare solo recordings as well.
Five broadcasts:
Tuesday 17 September, 21-22 hr
Tuesday 15 October, 21-22 hr
Tuesday 29 October, 21-22 hr
Tuesday 19 November, 21-22 hr
Tuesday 17 December, 21-22 hr
Can also be heard through Radio on Demand.