Four quintets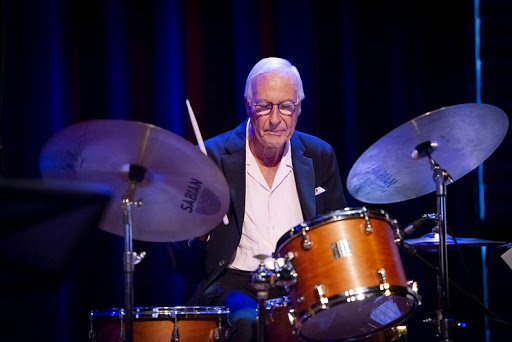 Friday 16 July 18:00  – Holland Jazz. A lovely episode of Dutch quintets.
After their spectacular first prize at the NOS Meervaart Jazz Podium in 1985 things moved fast for the Ben van den Dungen/Jarmo Hoogendijk Quintet. The hard bop ensemble rapidly achieved international and intercontinental successes. Albums are released, with a core lineup of: Ben (saxes), Jarmo (trumpet), pianist Rob van Bavel, bassist Harry Emmery and Eric Ineke (photo) on drums.
The title track of the album Run For Your Wife (1991) opens with a lengthy introduction, During which the two wind players establish the theme, a one rhythm extremely capricious melody. It's Itching has a unique structure. The opening by the pianotrio – without wind – comes to a climax. It then seems as though the piece begins again, and that's not the last twist for the listener.
Drummer Pieter Bast was also a prize winner at the NOS Meervaart Jazz Concours, in 1986. With his E.S.P. Quintet (European Standard Project, counterbalance to the often dominant American Standards) he strove towards a growing repertoire composed by European musicians. The music on La Condition Humaine (2018) has a rich musical palette, due to the among other things the Fender Rhodes EFX.
You will also hear the Bart Lust Quintet – music from the cd Make Me An Offer from 2012. The hard bop ensemble The Eric Ineke Jazz Xpress concludes this quintet hour with the album Flames 'n' Fire (2006).
Holland Jazz – a programme by Jan Verwey