Holland Baroque and Eric Vloeimans win Edison Classic Public Prizes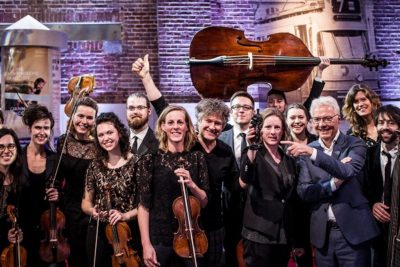 The cd 'Carrousel' has won the Edison Klassiek Publieksprijs 2017 . The Edison was awarded on Sunday 19th November during the live broadcast of Podium Witteman to Holland Baroque and Eric Vloeimans in De Hallen in Amsterdam.
The jury also awarded Edisons to pianist Arcadi Volodos (soloist instrumental), Carolyn Sampson (soloist vocal), Nicolas Altstaedt & Fazil Say (chamber music), the Gewandhausorchester Leipzig with conductor Andris Nelsons (orchestra), MusicAeterna led by Teodor Currentzis (opera), the cd-box Rostropovich: Cellist Of The Century (in the category documentary) and pianist Beatrice Rana (category discoveries).
Last week it was already revealed that flute player Lucie Horsch, choir Cappella Amsterdam and conductor and organist Ton Koopman were in the prizes.
The Edison is the oldest and most famous Dutch music prize. The nominations are made by an independent and leading professional jury led by Mischa Spel, music editor and reviewer for the NRC. Thereafter the public chooses the winners.
Earlier this year the programme Nouve Musiche gave special attention to this CD . Listen  to this programmea here .
Photo: Wouter Jansen