Holland Jazz = Belgium Jazz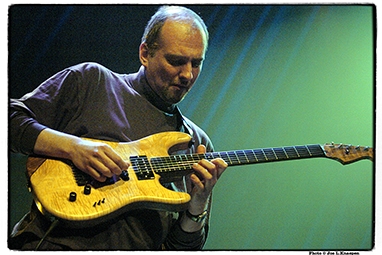 Holland Jazz Saturday 16 January 19:00 CET. The programme is called 'Holland Jazz', but for Jan Verwey Belgium is part of Holland, at least as far as jazz is concerned. An attitude towards open borders that we appreciate!
Guitarist Peter Hertmans (photo) produced the album Waiting in 1993. The powerful quartet that accompanied him of this album consisted of John Ruocco (reeds), bassist Hein van de Geyn and drummer Billy Hart. The programme includes tracks composed by Hertmans and a version of the standard The Song Is You.
The Flemish influence continues with music from guitarist Philip Catherine (…Plays Cole Porter), and from the piano/trumpet duo of Enrico Pieranunzi & Bert Joris (album Afterglow).
The American Kenny Werner has a long history as a composer and as an arranger for jazz big bands. He started in the 1980s with Thad Jones/Mel Lewis. He then made the move to Europe where he worked with big bands from Germany, Denmark, Sweden and Finland. One of these big bands was the Dutch Metropole Orkest that benefited from his services as guest composer and pianist.
The album Naked in the Cosmos appeared in 2002, a cooperation between Werner and the Brussels Jazz Orchestra (BJO). Werner was responsible for all the music on this album.
The BJO has a good reputation when it comes to selecting their partners – Joe Lovano, Maria Schneider, McCoy Tyner, Lee Konitz… and that is just a few of them. The band often travels over borders: Amsterdam, Vienna, Paris, New York (Blue Note Jazz Club & Lincoln Center), there seems to be no limit. In the programme, you can listen to the long title track (12') Naked in the Cosmos, in which the borders of the sounds usually associated with a big band are also frequently crossed.
Click here for the playlist.