How the goddess Freya got into jazz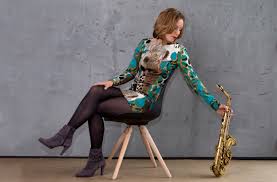 Friday 19 March – 18:00  Holland Jazz
Three albums of Dutch Jazz. All very different but equally good.
Drummer Eric Ineke is the Dutch element on the record Turn Out The Stars – The Music of Bill Evans (2019). Together with guitarist Ricardo Pinheiro and bass player Massimo Cavalli they play trios of Bill Evans piano music, both from himself and from other composers he liked to play. A translation thus from piano to guitar. If you like it, a question for you: How much Bill Evans ( apart from the themes ) do you hear in these intense and carefully considered interpretations from this trio?
Freya, where do we know her from? Isn't she one of the protagonists in Richard Wagners Ring des Nibelungen? In Norse and German mythology is Freya is the goddess of love and fertility. Tineke Postma (alto- and soprano sax, composer, bandleader) is inspired on her latest album Freya (2020) by her motherhood . She gives her top American quintet lots of freedom: trumpet, bass, drums, piano in several pieces. The players keep each other sharp in their interactions. Every moment counts on this album – if you pay full attention it will really work on you.
The brand new cd "Lexposure" Lex Jasper Trio & Strings is easier to get into. On this album – which deserved a less silly title – pianist Jasper plays his own works and arrangements for trio with bassist Frans van Geest and guitarist Vincent Koning, also sometimes with strings. Goes down easily.
Holland Jazz – a programme from Jan Verwey