In Memoriam Krzysztof Penderecki ( 1933-2020 )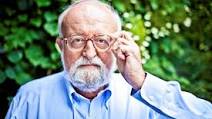 Everyone has probably heard music by the Polish composer Krzysztof Penderecki. From films such as The Shining to The Exorcist, the doomladen orchestral sounds from the Pole Pool Krzysztof Penderecki were the basis for film directors. Horror music in which Penderecki was unrivalled in portraying post-war emptiness and confusion. on 29th March one of Poland's most famous composers passed away at the age of 86 in his hometown Cracow. He became famous with early works such as Threnody to the victims of Hiroshima, De Natura Sonoris 1 + 2, Anaklasis, Polymorphia, the Sint Lucas Passie and the choral and orchestral work Utrenja. Exciting, dark music full of boiling choral parts, threatening strings and bibles, pounding percussion. From the 70's Penderecki adopted a more tonal, accessible idiom , and among other things became famous with virtuoso concertos for violin and cello. Penderecki also wrote 4 operas, among them his debut The Devils of Loudun and Ubu Rex. As well as composing he was a dynamic conductor of his own works and others (from Górecki to Lutoslawski and Beethoven). Especially Penderecki's groundbreaking avant-garde orchestral works from the 60's and 70's are still a huge influence on a new generation of composers, among them film composers such as Mica Levi and pop icon Jonny Greenwood of Radiohead who are great fans of  Penderecki.
Mark van de Voort.
Hear more on  8th April in Thema at 20.00.
https://www.concertzender.nl/programma/thema_550974/